AUDIO: Charlie Sheen's Advice To Lindsay Lohan -- 'Work On Your Impulse Control'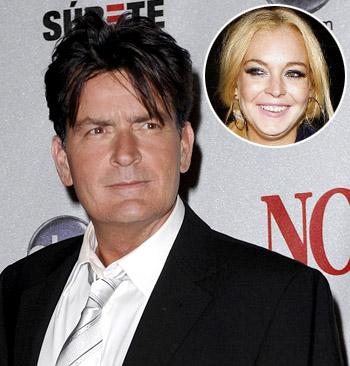 Charlie Sheen called into the Dan Patrick Show for the second time this week Wednesday, offering advice to another wayward star, Lindsay Lohan.
Sheen -- who said he's never been drunk or high on the set of Two And A Half Men once -- said he's got some advice for the Mean Girls star.
AUDIO: Hear Charlie's Advice For Lindsay
"I have some things I think she should consider, cause I don't tell anybody what to do," Sheen said. "Work on your impulse control ... just try and think things through a little bit before you do them."
Article continues below advertisement
Of Lindsay's recent necklace fiasco, he said, presumably referring to the media, "They're so desperate to vilify ... without fact."
On Monday, Sheen called into the show, saying he's ready to return to work on his hit sitcom, Two and a Half Men. (He has not worked on the hit comedy since he fell ill January 27, and began rehab at home, causing the producers to suspend production on the hit CBS series.)
MORE ON:
Two and a Half Men
"I'm going back to work and I was banging on the stage door like, 'Hello ... Where is everybody?' ... I don't know what happened ... I guess they're closed," Sheen told Patrick.
Patrick asked Sheen if the show has a set date to reconvene, to which Sheen said, "I believe it is August 2014 at this pace!"
Stay with RadarOnline.com for more on Charlie Sheen as it breaks.