Aspiring Singer Dies After Procedure To Make Her Butt Look Like Beyonce's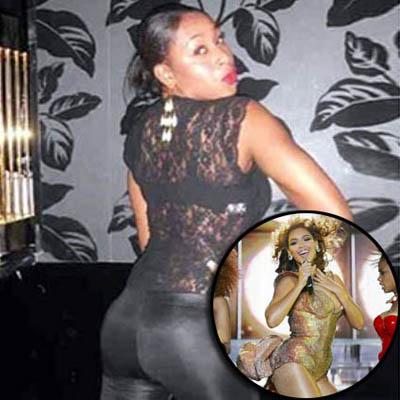 An aspiring hip-hop singer who died after getting liquid silicone injections to enhance her buttocks was obsessed with superstar Beyonce and her famous curvy body, RadarOnline.com has learned.
British university student Claudia Aderotimi, 20, died early Tuesday, more than 12 hours after paying a cut-rate price of $3,000 after having a botched procedure by an unlicensed medical practioner in a hotel room in Philadelphia.
Article continues below advertisement
Police apparently know the name of the person who allegedly did the injections, but that person is not yet in custody. Police sources told Philadelphia TV station WPVI that person is a transgendered woman who lives in the Philadelphia area.
Police learned the suspect's identity after raiding a home in New Jersey of a woman who allegedly was the "middle man" who arranged the procedure online for Aderotimi, but was not at the hotel room. On Friday, police announced that they have cleared that woman of any wrongdoing, but she is now considered a witness in the case.
They believe Aderotimi made contact with the "middle man" over the internet, exchanging text messages and phone calls before flying to Philadelphia.
Aderotimi's boyfriend Paul Djimo told the UK Sun newspaper: "Claudia wanted to be a superstar. She had big dreams.
"She loved everything about Beyoncé -- her music, her image, her acting, her personality.
"She seemed to think that if she could have just a bit of what Beyoncé has got, she could make it big.
Article continues below advertisement
"The irony is Claudia was a beautiful, intelligent, charming girl in her own right who would have been successful whatever she did.
"She liked modelling and singing, but there was much more to her than that. She was at university and wanted to be a journalist.
"I've never stopped loving her. Her death is absolutely devastating."
Aderotimi had earlier gotten the buttock enhancing silicone injections in November, and despite the pain they caused, she decided to travel to Phildelphia to get further injections at a lower cost.
Aderotimi -- a hip-hop fanatic from Hackney in East London was studying at Thames Valley University -- but was also in a girl group called The Chocolatez.
Along with her two friends, the group modeled themselves on Destiny's Child, which shot Beyonce to superstardom.
They described themselves as "a multi-talented group of three African girls" whose talents include dancing, singing, modelling and acting.
Article continues below advertisement
The sideline gave her the chance to get into showbiz shindigs at nightclubs, where she met American stars including rapper Pharrell Williams and R&B idol Ne-Yo.
But now tragically Aderotimi will not be able to follow in the footsteps of her famous 'booty shaking' idol Beyonce after she paid the ultimate price for trying to look like the superstar.
Her heartbroken boyfriend added: "She didn't need it. She was a pretty girl, anyone could see that. She was worth more than this.
"But she told me having the injections made her feel better about herself. Every girl has something they don't like about their looks and she mentioned her bum a few times.
"The industry she was trying to break into is competitive and dominated by US stars. And over there the size of your bum is extremely important.
"Here we are obsessed with breast size. Over there, it's all about the buttocks."
Paul Djimo claims that he did not know that his girlfriend had traveled to America to get the illegal operation; the last picture of Claudia was taken on her phone during her trip to Philadelphia with pals calling themselves RachaelBLondon, Dami and Theresa Roshay.
Article continues below advertisement
One of Claudia's friends stayed in Philadelphia with her also received a similar cosmetic procedure, but is apparently OK. Her other two friends went on to New York.
Shortly after Claudia underwent her procedure to enchance her buttocks on Monday, she started getting chest pains and was rushed to a local hospital. She died early Tuesday.
"Authorities are treating Aderotimi's death as suspicious and because the medical examiner has not ruled her death a homicide, they are not calling the person who performed the procedure a suspect, but a person they'd like to question", according to Philadelphia TV station WPVI.
The exact cause of her death is still to be determined.
Liquid silicone is sought on the black market by women seeking to enhance their figures, even though it is not approved for cosmetic injections. It was not known what substance was used on the women at the hotel. Besides liquid silicone, injections of substances including paraffin, petroleum jelly and hydrogel have been illegally used to enlarge women's breasts, hips and buttocks