Twilight Favs Nominated For Razzies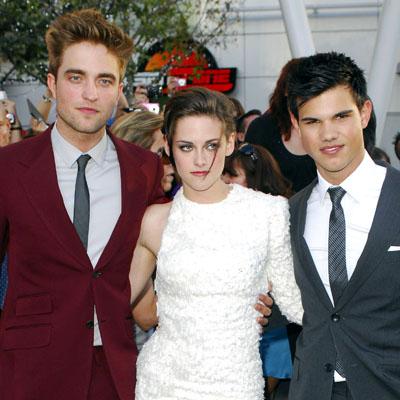 The Razzie Awards nominees, which "honors" Tinseltown's worst, were announced Monday, and the sizzling young trio from the Twilight Saga -- Robert Pattinson, Taylor Lautner and Kristen Stewart -- all received individual nominations for their work in Eclipse.
Eclipse, the $300 million hit that had audiences flocking to theaters this past summer, also garnered nominations for worst picture and worst screen ensemble. Also nominated for worst picture are The Last Airbender, The Bounty Hunter, Sex & the City 2 and Vampires Suck.
Article continues below advertisement
Other nominees of note included Cher (worst supporting actress, Burlesque); Ashton Kutcher (worst actor, Killers and Valentine's Day); and Jennifer Aniston (worst actress, The Bounty Hunter and The Switch).
The bizarro award show takes place on the eve of the Academy Awards February 26, at Hollywood's Barnsdall Gallery Theatre.
By the way -- the Oscar nominations will be announced Tuesday morning.
RELATED STORIES: