Ricky Gervais Explains Going MIA During Golden Globes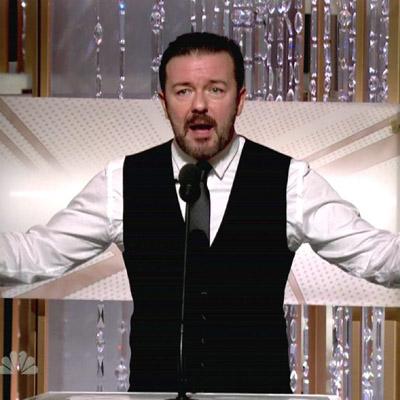 Ricky Gervais is explaining why he disappeared for about an hour during the middle of the Golden Globes broadcaston Sunday night, amid speculation that he was temporarily yanked from the show and reprimanded for his stinging (and hilarious) jokes targeting some of Hollywood's biggest stars.
In a statement, Gervais said: I did every single introduction I was meant to. There just happened to be a long gap. This is because I was allowed to choose who I would introduce in advance. I obviously chose presenters who I had the best jokes for. (And who I knew had a good sense of humour.) Everyone took it well and the atmosphere backstage and at the after show was great."
Article continues below advertisement
In the end, it it looks like Gervais really did get the last laugh: The 2011 Golden Globes was the highest rated TV show on Sunday night with nearly 17-million people watching the 3-hour broadcast; that's slightly better numbers than last year.
After the show Sunday, the caustically funny Brit said he's not expecting to be invited back to host the 2012 Golden Globes.
"I probably won't be here next year," Gervais said. When asked how he might respond if he was surprisingly invited to host for a third year in a row, Gervais responded: "I'll go f**king mental."
Chances are -- he won't be back.
Philip Berk of the Hollywood Foreign Press Association said Gervais crossed the line. "Some of the things he said were totally unacceptable," Berk said. Gervais had introduced Berk by saying: "I just had to help him off the toilet and pop his teeth in."
The Golden Globes are broadcast to more than 150 countries worldwide.