Plan The Perfect Valentine's Getaway - Or Stay At Home Treat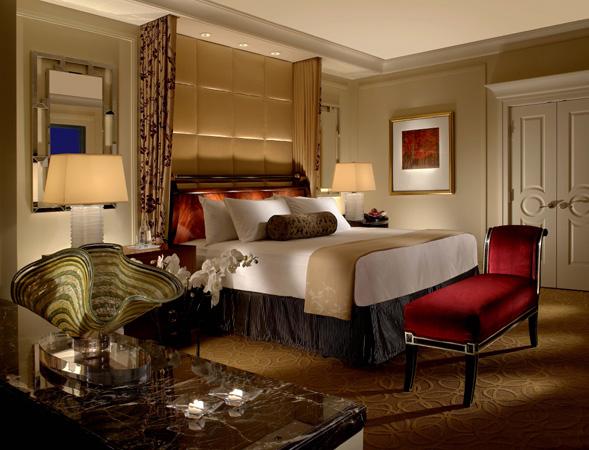 Valentine's Day - something every guy fears - but not at the Venetian and The Palazzo.
Bringing a touch of old school Italian charm to the glitzy strip, both hotels ooze romance - as well as elegance and indulgence, and what woman doesn't want that?
And if you really want to go all out to wow your sweetie you can book the Prestige - a special upgraded level at the The Palazzo hotel where you get all kinds of goodies, including a bath and pillow menu, a Phantom bath that is super, super romantic and a relaxing spa.
Article continues below advertisement
When it comes to dining, both hotels offer an amazing array of transcontinental options - including the celebrity favorite, Tao, perfect for a romantic Valentine's rendezvous.
Paris Hilton, Kim Kardashian and Rihanna all have the Matire D's number on speed dial and take full advantage of the extensive cocktail list and eclectic Asian fusion menu.
Don't fear though, if you can't afford the flight, you can bring some Venetian romance direct to your home.
The Venetian and The Palazzo have a whole line of specially concocted Valentine's cocktails - available at Fusion Mixology Bar from February 11-14- guaranteed to get your loved one in the mood.
And RadarOnline.com can bring you the exclusive, secret recipes:
Amore Vietato (Forbidden Love) by Wendy Verdel - light, refreshing and exotic:
-2oz
Hendricks Gin-1oz Blood Orange Juice
-Dash simple syrup, 2 strawberries
Article continues below advertisement
-4 slices of cucumber
Muddle fruit with simple syrup, add gin and blood orange juice. Shake and strain into a martini glass. Garnish with strawberry, cucumber spiral and orange peel hearts.
Red Velvet Cake Martini by Steve Dorsey - Tastes just like red velvet cake! Seductive and scrumptious!
-2 oz Stoli Vanilla
-1 oz Godiva White
-1 spoonful Red Velvet Powder
-Dash simple syrup, dash heavy cream
Shake and strain into a martini glass swirled with white and red chocolate syrups.
If we've wet your appetite for a weekend getaway check out the deals at The Venetian and The Palazzo.
And remember- what happens in Vegas, doesn't necessarily have to stay in Vegas!