PHOTOS & VIDEO: The Hoff Gets Hassled By Drunk Crowd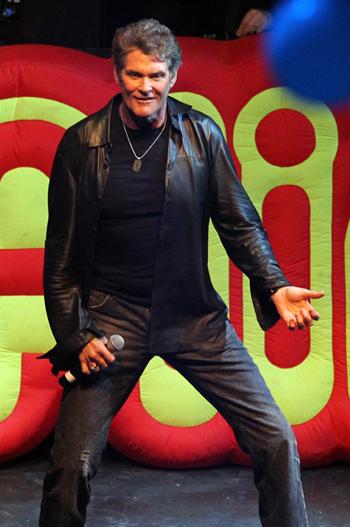 This one is just classic David Hasselhoff!
The Hoff got a little hassled by a group of drunk college students when he showed up an hour late to a venue at the University of Hertfordshire in London Friday, and RadarOnline.com has learned a few rowdy students at the event threw water ­bottles on stage and shouted: "OFF, OFF, OFF!"
But that didn't phase the 58-year-old actor/singer because within 15 minutes, he'd apologized for being late, poked fun at himself and had the crowd of more than 1,500 liquored-up students shouting "HOFF, HOFF, HOFF!"
Article continues below advertisement
The former America's Got Talent judge got the crowd under control and continued his performance by singing the Baywatch theme and his 2006 single Jump In My Car.
The Hoff is currently in the UK judging contestants on his new gig, Britain's Got Talent. Hasselhoff recently replaced former BGT judge Piers Morgan, who takes over Larry King's talk show on CNN starting Monday.
A spectator who attended the London concert told the UK's Sunday Mirror "the guy is a total legend, a real pro." The newspaper also posted video of the episode! You can watch it here on RadarOnline.com.