PHOTOS: Katy Perry's New BFF Nicki Minaj Gets Covered In Body Paint!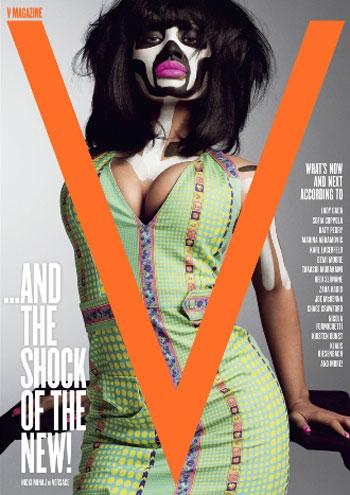 Katy Perry's new pal Nicki Minaj is quickly making a name for herself, not only by topping the hip-hop charts, but for her eccentric fashion sense. Nicki scored herself the cover, as well as an extensive photo spreads in issue #69 of V MAGAZINE modeling all the latest fashions, while covered in bodypaint. RadarOnline.com has all the photos, which you can see by clicking the next sentence.
Nicki reveals to the fashion magazine that she has complete control over her image.
Article continues below advertisement
"Everything I do has been approved by me personally," she asserts. "My team is mostly made up of guys, but none of them would ever think about telling me what to wear or what to do with my hair. They know that ultimately I'm gonna do what I'm gonna do."
The singer, who Kanye West recently referred to as "the scariest artist in the game right now," is known for her wacky and out-of-this-world fashion choices, which often land her on the worst dressed list.
"I'm an entertainer - I like to make people laugh," she says. "Some will hate it and some will love it, but all will remember it. And that's what I want: to be remembered. Even if I'm saying something hard-core or controversial, there's always a touch of humor, and if you don't like it, it means I'm stirring things up inside of you."
To read the full interview with Nicki, pick up the latest issue of V Man, which hits newsstands on Thursday, January 13th, or head to their website by clicking here.