PHOTOS: Fashion Flashback! The Best, Worst & Wackiest Fashions Of The SAG Awards Over The Years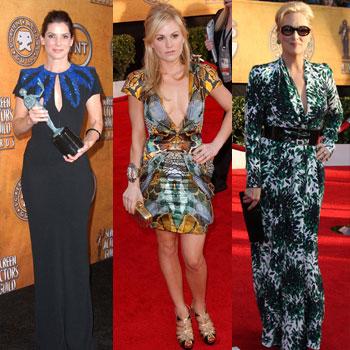 Before the Screen Actors Guild Awards red carpet opens on Sunday, RadarOnline.com is taking you on a fashion flashback! Click the next sentence to see the best, worst & wackiest fashions from year's past in this special photo feature.
Click Here To See Stars In The Best, Worst & Wackiest Fashions Of The SAG Awards Over The Years
Sandra Bullock was the big winner in 2010, scoring the top acting honors of the evening in a beautifully beaded Alexander McQueen gown, while supporting thespian Diane Kruger looked magnificent in a mustard-colored Jason Wu stunner. A la mode misses included Anna Paquin, in a nightmarish Alexander McQueen mini and Meryl Streep, who decided to sport sunglasses with her powerfully patterned Balenciaga gown.
Article continues below advertisement
And who can forget Kate Hudson in 2008, looking like a bohemian goddess in a strapless Balmain masterpiece? Or Emily Blunt, slinking down the 2009 red carpet in a Pamella Roland silver floorlength?
Anne Hathaway slipped up in a blue and black lingerie look in 2006, while Sexy Sarah Jessica Parker went too Carrie Bradshaw the year before, wearing a mess of a polka dot dress.
Who else rocked and shocked on the red carpet of the SAG Awards over the years? Click here to find out.