PHOTOS: Courteney Cox & David Arquette -- Back Together, On Screen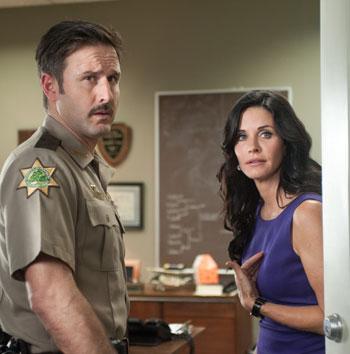 It's a bitter sweet promotional photo — just released — which shows Courteney Cox and David Arquette in a happier times on the set of Scream 4, which will hit theaters in April.
Courteney and David met and fell in love while filming the first in the Scream franchise, but separated shortly after filming the fourth one in the summer of 2010.
Since their separation, David went on a hard partying binge and entered the Betty Ford rehab center in early January.
Article continues below advertisement
The Friends star has visited David in rehab with their daughter Coco, according to People Magazine.
David gave two revealing interviews to Howard Stern on his radio show, discussing his devastation over the breakup.
"Everyone has their problems but she is incredible," he said of Cox. "Any guy would be blessed to be with her. I don't have any hard feelings for anyone. This is life and we are just going through it publicly."
Courteney spoke out recently about the paparazzi attention she receives and briefly acknowledged the difficulties in her life.
"Probably as I get older I'm probably getting a little more sensitive," she said. "
So, it might be harder in some ways. Obviously, my life is kind of crazy right now. So, getting a lot of that. It's probably a little harder for me than it used to be -- I think I just didn't notice."