PHOTOS: Coco Loco! Ice-T's Wife Tweets Racy Photos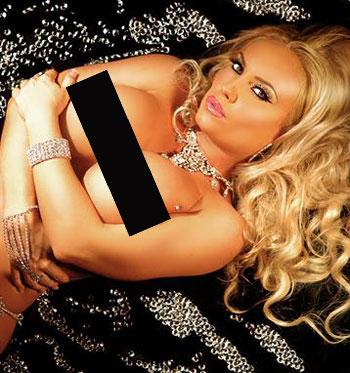 Only Coco would scrub and mop in a stripper suit one day, and then celebrate 'Tittie Tuesday' wearing only diamond pasties the next!
Ice-T's curvy model wife tweeted a photo of herself on Monday, wearing a totally scandalous purple fishnet catsuit, which left little to the imagination‹to say the least.
"The back of my catsuit," she explained of the photo, in which she was wearing a racy, skintight and totally sheer bodysuit, which clung to her dangerous curves.
Article continues below advertisement
"I call this my comfy clothes. I wear this around the house to clean in."
On Tuesday, she followed it up with a photo of herself, wearing only diamond pasties and jewels on her body.
"This is my diamond girl look! I thought I'd participate in Tittie Tuesday today! You like?"
How Ice-T juggles a career and Coco's curves, we have no idea!
Related Stories: