PHOTOS: Bikinis! The Tiniest Tushes In Tinseltown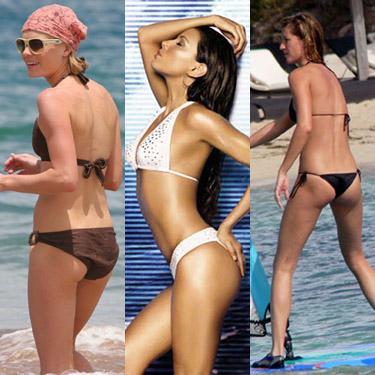 These sexy bikini babes may not have the biggest booties on the beach -- a la Kim Kardashian and Coco -- but size isn't all that matters.
RadarOnline.com has photos of Hollywood's sexiest stars, stripped down into their skimpy swimsuits and showing off their toned, tightened and tiny tushes. Click the next sentence to see bikini babes with the tiniest tushes in Tinseltown.
Article continues below advertisement
Gisele Bundchen is the highest paid supermodel in Hollywood, so it isn't surprising that she totes one of the most banging backsides. The Brazilian bombshell loves making waves in barely legal bikini bottoms. See her small but plentiful bikini booty by clicking here.
From Laguna Beach to The Hills Lauren Conrad and Kristen Cavallari love bringing drama to the beach with their awesome bikini bodies. And the SoCal blondes have more in common than a few ex-boyfriends-both reality show stars have tiny and perfectly shaped buns. See Lauren's set here and Kristen's set here.
Charlize Theron may be a bigscreen bombshell, but her booty definitely isn't the biggest on the beach. The South African sexpot keeps her curves in swerving form, by keeping busy on the beach, engaging in sporty activities instead of lazy sunbathing. See Charlize's bikini buns by clicking here.
And AnnaLynne McCord has the tightest end in the 90210 zipcode. The flawlessly bodied star loves showing off her svelte swimsuit silhouette in beyond skimpy bikinis. See AnnaLynne's tiny tush here.