PHOTOS: Beyonce's Steps Out In Her Controversial Studded Leggings!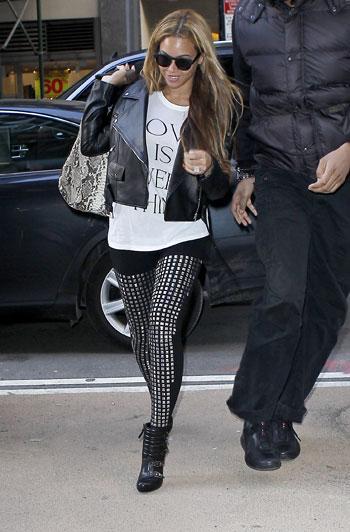 Beyonce grabbed attention while out and about New York on Tuesday, dressed up in totally glam rock and roll duds. The Bootylicious singer rocked a leather motorcycle jacket with moto booties, a python purse with a pair of studded leggings from her House of Dereon fashion label's Fall 2010 collection, which actually have a little of controversial history behind them!
The pop star was accused of stealing the designs for the grommet-embellished leggings from Icelandic E-Label back in August, when the company spotted Beyonce modeling them in her racy advertising campaign. They claimed that B. had purchased the pair of heavy metal leggings at Topshop in London in November 2009, and then proceeded to copy them.
Article continues below advertisement
This is the first time Beyonce has been spotted wearing the controversial leggings, since the allegations were cast in August.
What do you think about Beyonce's studded leggings? Leave your comments in Style.