PHOTOS: Baller Blunders And Sexy Sirens In The Best And Worst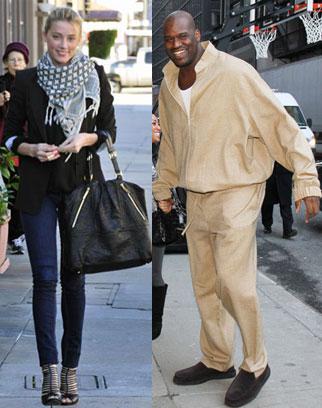 From New York City to Los Angeles stars were out and about on Tuesday dressed in the best and worst fashions‹and RadarOnline.com has all the photos in our daily feature.
Click Here To See Stars Dressed In The Best And Worst Fashions
Amber Heard is one of our favorite fashionistas, because the out-of-the-closet bigscreen babe never leaves the house without looking red carpet ready. The Jones' star was dressed to impress for lunch in Los Angeles, showing off her hot bod in skinny jeans, a black blazer, strappy sandals and perfectly patterned scarf. Tres chic!
Article continues below advertisement
Shaq attack! The bigtime baller didn't bother getting dressed up for The Late Show with David Letterman in NYC, wearing bedroom slippers with a beige tracksuit.
At the Los Angeles premiere of The Cape, Izabella Miko and Summer Glau were dressed in sexy style, both flaunting their figures in strapless numbers, while Brit babe Claire Foy rocked a sexily slit sophisticated ensemble with Charlotte Olympia platforms to the NYC premiere of Season of the Witch.
Eva Longoria knows that the best revenge is looking fab! The Desperate Housewife dined at Katsuya, rocking a bright blue Hermes Birken bag with a grey sweater and skinny jeans a la Victoria Beckham.
And Reese Witherspoon flaunted her brand new bling -- and fiancé Jim Toth -- while taking in some hoops at the Lakers game in Los Angeles.
See all the best and worst fashions every day on RadarOnline.com!