PHOTOS: Amy Adams Enjoys Family Fun Day In The Park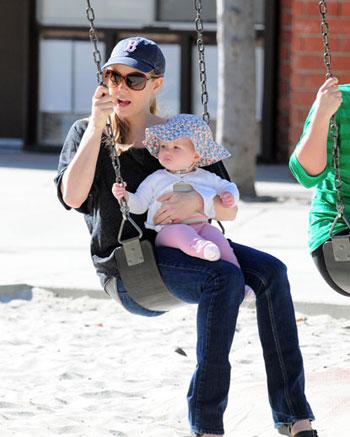 Just days after she looked gorgeous and glamorous in a Marchesa gown at the Golden Globes, nominee Amy Adams was back to her signature causal style on Thursday as she played with fiance Darren Legallo and their eight-month old daughter, Aviana, in Coldwater Park in Beverly Hills.
You can see the photos on RadarOnline.com, as the family enjoyed their fun in the sun.
Adams paid homage to the Boston setting of her latest blockbuster, The Fighter, by wearing a Red Sox baseball cap as she played on a swing set with Aviana, who was protected from the sun if a floppy floral hat.
Article continues below advertisement
Later on during the play-date, mom and daughter laughed as they slid down a slide into the waiting arms of Legallo at the bottom.
BEAUTY RADAR: Get Amy Adams' Hair
The Fighter star was a front-runner for the Best Supporting Actress award at Sunday's Golden Globes but lost out to co-star Melissa Leo.
RELATED STORIES: