PHOTO: First Pic Of Andrew Garfield As Spider-Man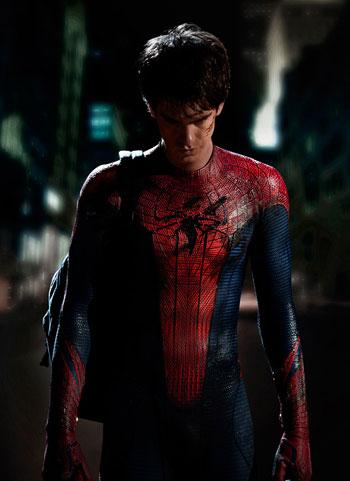 Superhero geeks rejoice!
The first photo of Andrew Garfield as Spider-Man has been released, and he looks... well.... kinda skinny!
Garfield, who was last seen on the big screen in The Social Network has taken over from Tobey Maguire to star as Peter Parker in the fourth installment of the hit franchise.
His casting has garnered mixed reactions from die-hard Spidey fans, but the movie's director Marc Webb is adamant he's the right choice for the role.
Article continues below advertisement
"Though his name may be new to many, those who know this young actor's work understand his extraordinary talents," he says. "He has a rare combination of intelligence, wit, and humanity. Mark my words, you will love Andrew Garfield as Peter Parker."
And Matt Tolmach, President of Columbia Pictures, raves: "Spider-Man is a classic superhero — a young man who balances his responsibility to serve humanity and crush evil with the shyness and normalcy of someone struggling to find himself. The role demands an extraordinary actor. You need someone who can magically transform himself from Peter Parker into Spider-Man.
Spider-Man starlet commits suicide
"An actor who will depict the vulnerability of youth and the strength and confidence of a legendary figure at the same moment. We have found that actor in Andrew Garfield. From the first time we saw him in the upcoming film The Social Network, to his glorious screen test, which floored all of us, we knew that we had found our new Peter Parker."
Maguire made the decision to hang up his latex suit after learning that producers planned to take the billion dollar franchise in a new direction - focusing on Peter Parker in high school, dealing with human issues as well as super-human predicaments.
Article continues below advertisement
The 35-year-old, who is married with two children, Ruby, four, and Otis, eighteen months, to jewelry designer Jennifer Meyer, thought playing a high school student at his age was no longer plausible.
Sam Raimi, the director behind all three of the past Spider-Man films also quit, along with actress Kirsten Dunst, who played Mary Jane Watson, Parker's love interest.
The previous trio of movies, starting with 2002's Spider-Man have raked in roughly $2.5 billion at the box office and yielded tens of millions more in profits from product licensing, toy sales and other merchandise revenues.