VIDEO: JLo, Steven Tyler Debut In Forgettable American Idol Season 10 Premiere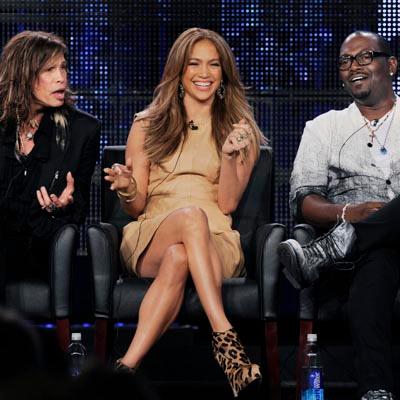 A kinder, gentler American Idol premiered Wednesday night trying hard, awfully hard, to convince everyone (and itself) that's its new judges are fun (!), crazy (!) and stressing the star power of Jennifer Lopez.
"Jlo recognized me," one early contestant told the camera, sending a not-so-subtle message that Season 10 is about addition, not subtraction. The show began its post-Simon era by facing the judge shakeup head-on, with a montage of news reports about the new judges. Well, not exactly head-on. No one ever mentioned the 'C-word'. (The 'C-word 'is Cowell. Get your minds out of the gutter, people.)
Article continues below advertisement
Within minutes it was done, Randy, that guy from Aerosmith and a smoking-hot JLo introduced, sashaying through, um, smoke.
And if you think the show's audience hasn't aged, all it took was a few chords of "Dream On" to remind us that the new judge's aren't Lady Gaga and Kanye.
New Jersey was the setting for 90 minutes of Must-Forget TV and the first two contestants advanced (see, the show is kinder & gentler). Then we saw the usual cavalcade of oddities. Awful singing. A girl with stars on her boobs. (JLo was her childhood idol.) More forgettable contestants as Steven Tyler (the guy from Aerosmith) kindly dismissed some awful tryouts and the show made a point of featuring JLo's difficulty saying 'no.'
You could practically see the ghost of Simon hovering and smirking.
#52329 (these contestants don't deserve names) got the roughest treatment when Tyler asked him if he ate paint chips as a child. That's about as colorful as the show got. More forgettable moments followed: A girl cried. An undeserving 16-year-old from North Carolina advanced despite a wretched performance. (Wretched? That sounds like...)
Article continues below advertisement
At one point Tyler begged, "Please be the next American Idol," and he can be sure his boredom with the contestants - unremarkable even in their complete lack of talent - was shared by the audience.
PHOTO: Jennifer Lopez Tweets Pic Of Herself In Front Of Her Own Billboard
Randy spent much of the night in the unofficial role of Head Judge but even his nine years of experience couldn't compensate for the utter lack of chemistry.
Yes, JLo looked beautiful and Tyler is a rock star from a time long, long ago with a dangling earring but Ryan seemed lost without his long-time foil.
When Ryan wrapped things up with an awkward appearance at the judge's table Randy bravely summed up the days' auditions, saying: "Great jumpoff. We did amazing."
It appeared that even he didn't believe it.
At best, chalk it up to the first show of Idol never offering ultra compelling material. And sure the show is bound to have drawn big numbers simply for the curiosity factor but ultimately the formula was simply another year older and one thing seems clear: only a top talent contestant - not the new judges - can reinvigorate Idol this season.