EXCLUSIVE PHOTOS: The Bachelor Pad Winners -- Before They Were Famous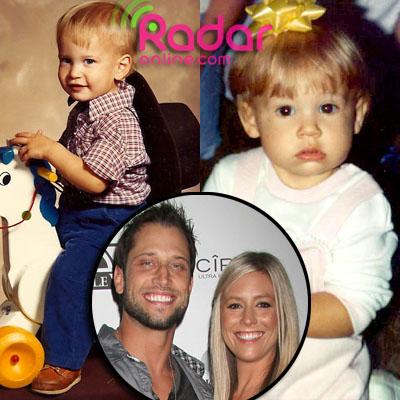 Here's a look at the Bachelor Pad champions Dave Good and Natalie Getz before they were famous -- and rich.
The pair, who split the cash prize of $250,000 when they were crowned winners of the first season of ABC's hit dating game show, were adorable even at a young age, as our exclusive RadarOnline.com photos reveal.
In one of our childhood shots, Dave can be seen, at the tender age of two, already revealing his winning smile, sporting a cowboy hat and dashing topsiders while riding a play horse.
Article continues below advertisement
And at age five, Dave is already showing signs of how he can melt the ladies' hearts!
Watching his dad shave, the junior Good is pictured learning techniques while holding a colorful toy razor.
Dave -- who relentlessly mentioned of the "Man Code," an unwritten set of rules on how men are supposed to behave as he attempted to woo Jillian Harris during Season 5 of The Bachelorette -- is now spreading the good word via his own book.
The Man Code: A Woman's Guide to Cracking the Tough Guy is available here.
His winning partner on Bachelor Pad, Natalie, has shared some equally adorable shots with RadarOnline.com, showing her also with a cowboy hat and cheeky smile!
In one image from the photo album, two-year-old Natalie is wearing bright red dolphin shorts with a matching red baseball cap, turned to the side.
While Dave and Natalie's on-screen love didn't last off-screen, they have remained close friends.
Article continues below advertisement
Like Dave, Natalie is using her winning to further her career too.
"Fashion is truly my passion: I eat, sleep and breathe it!," she told RadarOnline.com, "and I'm currently freelancing as a stylist for photo shoots."
She added, "I am in the process of building a website solely based on fashion - everything from tips, trends and blogging."
Natalie is also in the running for the next series of Dancing With The Stars and you can vote for her here, while also reading her blogs on The Bachelor here and here.