Exclusive
EXCLUSIVE INTERVIEW: Logan Huffman -- Meet 'V's Young (And Very Human) Hunk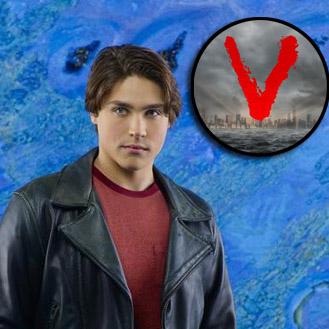 V airs Tuesday nights on ABC, and one of the show's break-out stars -- Logan Huffman -- is also the show's youngest actor.
The hunky Indianapolis native -- who recently turned 21 on December 22 -- is making a splash in Hollywood, thanks in part to a bunch of human hatin' lizards.
Logan plays sweet, down-to-earth Tyler in ABC's reboot of the 1980's sci-fi series V, based on the cult classic mini-series about sinister aliens descending on Earth, claiming to have only peaceful motives. (But we know better!)
Article continues below advertisement
RadarOnline.com recently had a "close encounter" of our own with Logan and we chatted about his fast track to fame -- what's it like to lock lips with a lizard (the lovely "Lisa") -- and why he was born to be a 'triple' threat.
RadarOnline.com: First of all, you recently turned 21! Congrats on being legal! How did you celebrate?
Logan: My close family and I went to a casino on an Indian Reservation in Florida. Gambling was the one thing I looked forward to the most after turning 21, and I ended the night $500 up playing blackjack and poker. My sister did have to take my winnings away, because I wouldn't stop gambling. She, of course, is the wiser.
RadarOnline.com: I'm sure most people don't realize that you're one of triplets. Where do you fall (oldest, middle, youngest?) and what was it like growing up as a triplet?
Logan: I am the eldest, my brother Luke was born second, and my sister Noelle is the youngest, each of us a minute apart. Even though we're triplets, we're all very different. There was always a companion around, but there was also of course bickering. When my my sister would tell me she didn't agree with something I was saying or doing, I would reply, "maybe in two minutes you'll understand."
Article continues below advertisement
RadarOnline.com: You grew up in Indianapolis, studied acting, then moved to New York at 17 to pursue it as a career. Why did you choose New York over L.A. and what did your family think about you making such a big move so young?
Logan: I chose New York because I intended to study the craft, and New York, I believe, has the best teachers. I wanted foremostly to be an actor, not necessarily a TV actor. My family has always been supportive, but of course frightened as well. When I told my father I wanted to an actor, he gave me a sidelong glance that blinked, "oh, god..." It's a hard thing to chase after, but they believed in my drive and dedication.
RadarOnline.com: What was your life like in NY as an aspiring actor?
Logan: It was thrilling in all of its highs and lows. I had no clue whether or not I was going to succeed or if the industry was going to eat me alive. The city in its vastness is impressionable on any young person, not only aspiring actors.
RadarOnline.com: We've seen a lot of young actors get into trouble in Hollywood -- living life in the fast lane -- any concern about staying grounded?
Article continues below advertisement
Logan: Not really, I think I have the right tools inside of me, instilled by my family. I believe as a midwesterner I have an edge in that regard. There are universal morals and a strong sense of work ethic that was given to me in my childhood.
RadarOnline.com: "V" is back on the air after being on hiatus for several months, and the producers have promised some changes. What can fans expect?
Logan: Viewers can expect more reveals per episode, fast-paced action, and a greater incorporation of themes and characters from the original "V"
RadarOnline.com: Tell me about your character Tyler, and what will become of your relationship with Lisa , played by the lovely Laura Vandervoort. Can we expect more steamy scenes between the two of you?
Logan: As the series' plot thickens, of course the relationship between Tyler and Lisa becomes more complicated, as their fate, separate and together, is entirely dependent on the whimsy and politics of the Visitors.
Article continues below advertisement
RadarOnline.com: "V" shoots in Vancouver, British Columbia. What is it like living and working there? Is it difficult to be away from family and friends?
Logan: Vancouver is beautiful, and home to some of the best bartenders in the world. Working there is less glamorous, which really makes it about the work. Still a little less eccentric than I'd like it to be. It is a little difficult being away from family, as I've mentioned before, we grew up very close.
RadarOnline.com: Any crazy encounters with fans yet? I know you've attended Comic Con to promote "V".
Logan: I cannot confirm nor deny -- on account of jeopardizing any possible or eventual political careers.
RadarOnline.com: I understand that you really do have an interest in the paranormal. Do you believe in UFO's or intelligent life outside of Earth?
Logan: Yes, I certainly believe there's something out there. I think mainstream science should dedicate more serious work and time in studying the paranormal. I am a considerably firm believer in the existence of a North American native bipedal ape, or "sasquatch."
Article continues below advertisement
RadarOnline.com: The original "V" was a big hit as a mini-series in the 80's. Of course, that's way before your time, but did you watch the original mini-series to prepare for your role in the reboot?
Logan: Growing up I was a fan of 50's and 60's scifi movies, but not really anything from the 80's beyond Star Wars. I never saw the original "V" until I auditioned. I bought the series on DVD and instantly became a fan.
RadarOnline.com: Fans of the mini-series are excited about the return of the original lizard lady Diana (Jane Badler), have you had any scenes with her?
Logan: I wish I had a chance to film with Jane, because as Diana, she holds such a prominent image in the global scifi consciousness. Unfortunately, as of yet, I have not had a scene with her.
RadarOnline.com: Besides acting, do you have any 'secret talents' you can tell us about?
Article continues below advertisement
Logan: I think I'm an excellent critic of fine art -- well, I'm a patron of the arts, at least. I have loved visiting museums since I was a child, I would go to the Indianapolis Museum of Art at least once a week in elementary school. I'm also a formidable banjo player.
RadarOnline.com: I have to ask this one: your female fans will want to know -- single or taken?
Logan: I am madly in love with a girl named Haley Ramm. But to all the disappointed girls--where the hell were you in high-school?
RadarOnline.com: Finally, where do you see yourself -- or hope to be at -- in the business ten years from now ?
Logan: My greatest aspiration is to be able to sustain a career as an actor. I would like to be able to make a living doing what I love. A goal of mine is to expand the film industry from New York and LA to places like Michigan, Louisana and Indiana, and be able to expand and grow as an artist myself.
Interview conducted by Neil J. Woulfe - 8-time Emmy Award winner / Recipient of the Edward R. Murrow Award for excellence in journalism / Human
V airs Tuesdays at 9 / 8c on ABC.