Exclusive
EXCLUSIVE INTERVIEW: Charlie Sheen's Former Madam: Lindsay's A Drug Addict, Charlie Just Likes To Party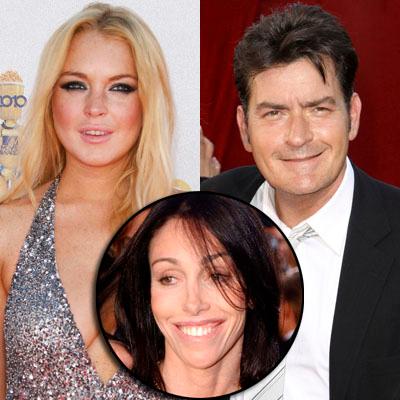 Heidi Fleiss has told RadarOnline.com that there is "no comparison" between Lindsay Lohan and Charlie Sheen.
The famous former Hollywood madam -- who used to regularly supply hookers for Sheen -- claims people should just allow him to party as hard as he wants.
The Two and a Half Men star recently had a wild time with porn star Bree Olson and some of her pals in Las Vegas, raising fears that the troubled actor is in need of an intervention ASAP.
Article continues below advertisement
But Fleiss does not believe any such drastic action is required for Sheen, claiming it's Lohan who needs to be constantly monitored.
She said: "Look, people need to leave Charlie the f**k alone. Do they really expect him to go to church when he is not working?
"He is the highest paid actor on television -- on a really popular show -- and he always delivers by turning up on time and putting in great performances, and that's all that matters.
"There is no comparison with Lindsay Lohan because she is not functional and is an addict with a sickness - I should know because I've been to rehab several times too.
"It's not as if we see Charlie smoking a crack pipe or anything, the guy just loves to party, and people just don't seem to want to accept that.
"Also, Charlie is making a lot more money than Lindsay and he should be allowed to spend it whatever way he sees fit. She's the one that has to try and get her career and life back on track. He's doing fine.
Article continues below advertisement
"Really - Charlie Sheen with hookers? It's not a real surprise, is it? Who's fooling who here?!"
As RadarOnline.com previously reported, Sheen, 45, spent the weekend in Las Vegas knocking back vodka during the day and romancing a "revolving door" of porn starlets by night, including Olson, in the upscale Hugh Hefner Sky Villa inside the Fantasy Tower at the Palms Casino Resort.
Before the Sin City rendezvous, Sheen flew a private jet to Olson's home town of Fort Wayne, Indiana, where the pair spent a few days together during the New Year break.
MORE ON:
Two and a Half Men
However, not everybody seems to have such a liberal view about Sheen's antics as his former madam.
The Wrap reported that the show's executive producer Chuck Lorre and CBS executives were less than impressed with Sheen's Vegas high-jinx.
Following his wild weekend, Sheen nearly missed his call time to shoot the top rated sitcom. Sheen inked a two-year deal last May which nets him a massive $1.8 million per episode.
Article continues below advertisement