Exclusive
EXCLUSIVE BLOG: Jesse Csincsak Dishes On 'Bachelor' Brad; Predicts Who Will Be The Next 'Bachelorette'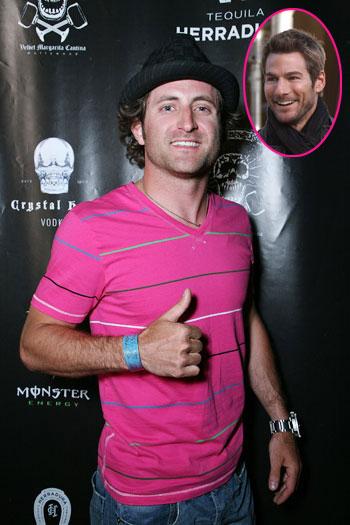 Jesse Csincsak -- the free wheelin', free spirited professional snowboarder who won the fourth season of The Bachelorette -- is exclusively blogging for RadarOnline.com about the 15th season of The Bachelor, which airs Monday nights on ABC.
EXCLUSIVE BABY PHOTOS: Bachelor Pad's Kiptyn & Tenley -- Before They Were Famous
The new season of The Bachelor features 38-year-old Texas bar owner Brad Womack, who famously dumped both women at the final rose ceremony during the show's 11th season four years ago.
Article continues below advertisement
Here's Jesse's third blog for us:
Brad: YOU SAID IT BEST when you said these girls are too worried about what's going on with everyone else in the house instead of worrying about their own experience here ... from my experiences on the show, the only way to make it through this process with your sanity is to forget that there are a ton of other people here trying to do exactly what your here to do and just focus on what you came here to do. You don't need a therapist bud --YOU GOT THIS -- do what makes you happy and don't worry about what everyone else thinks. Just Do You!!! Even if you were curing cancer, you're still gonna have haters, you just have to focus on what's important to you and let the haters hate.
One thing I noticed tonight on the group date was all of the girls shirts... when you get on the show and you make it past night one you get a gift bag and by gift bag I mean a duffel bag full of FUN FREE STUFF TO WEAR... so if you say to yourself over the course of a season of the show didn't so and so wear that in a different color last week — YES, they probably did!
ASHLEY S: OK, so as someone who had to sing on national television I CAN TELL YOU ITS NOT FUN!!! They make you sing, You make a total A-- of yourself and then they make it OK by feeding you chocolate and champagne ... OK, so it's not that bad, but still you feel like an idiot when you're done ... Ashley and Brad were no different, except Ashley got to meet SEAL (who is an amazing recording artist) and then proceeded to get the kiss and a rose -- NOT BAD. On my season, I had a similar date, except I had to make a fool out of myself singing just to get the date. But once I got the date, I got to meet Natasha Benningfield, it was a pretty rad experience ...
Article continues below advertisement
Michelle: Seems to be pretty sure of herself, seems to think she is the only one who is right for Brad and isn't afraid to let all of the other girls know it! I like her confidence, but some might perceive it as ANNOYING, or in Alli's words, EVIL. She keeps pushing for the one-on-one time, and is talking a lot of trash on the other girls and it looks like in the weeks to come it might just catch up with her. My advice would be don't try so hard just let it happen ... if she keeps p------ off the rest of the girls, it's gonna do nothing but get her sent home ... the thing you have to remember is the editors can leave out LOTS of key points, so what you think you're seeing is not what's really going on.
Chantal O: There is definitely a lot we are not seeing with this girl? Let me explain: She comes on the show SLAPS BRAD, doesn't get sent home, and now she is crying over him? Brad seems to be super into her, and she is opening up to him and taking down a lot of her walls. Something is being left out in the editing room if you ask me ... I guess we will just have to wait to see in the weeks to come.
Article continues below advertisement
Madison: This girl comes across as the cute model girl who is tuff as nails from NYC, but the second she heard the Emily story, she was in tears and showed her true colors by stepping out to let girls like Emily have a better shot at a rose !!! VERY RESPECTFUL IF YOU ASK ME!!!
Emily: OK, I am officially setting it in stone, in my opinion, THIS IS THE NEXT BACHELORETTE!!! Somebody needs to call Steven Spielberg because this girl's life is a movie ... I thought it was smart TV for them to put this girl in a plane with Brad on her first date; I mean, come on: THAT'S JUST GOOD TV! The producers know her ex passed away in a plane crash (VERY SAD) but the backstory is what made the producers do the plane date! In my opinion, they are building her story to be the next Bachelorette ... CALL ME CRAZY BUT IF IT HAPPENS I TOLD YOU SOOO and I don't have any insiders feeding me Intel!
Congrats to the following girls on getting roses this week: Ashley S, Shantel, Emily, Michelle,Chatal O, Lisa, Jackie, Ashley H, Marissa, Britt, Allie, Lindsey, Meghan, Stacy
Next week: Black Eyes and more drama...
Tune in next week to see my blog with all the behind the scenes details: Same place, same time.
The new season of The Bachelor featuring Brad Womack airs Monday nights on ABC.