BEAUTY RADAR: Get The Look! Hilary Swanky's Sexy SAG Awards Hair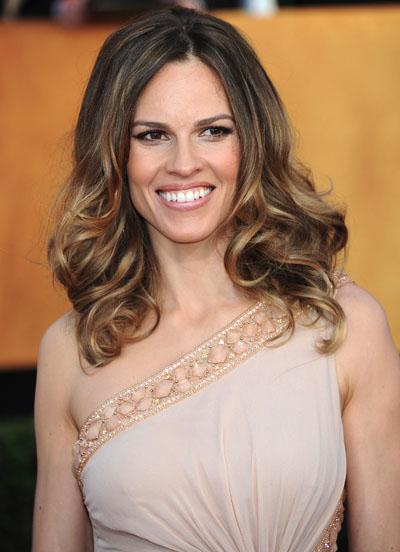 Hilary Swank may not have won the Best Actress Award at the Screen Actors Guild Awards on Sunday night, but the Conviction star deserved a trophy for her gorgeous look! As soon as we saw Hilary on the red carpet, we noticed her beautiful bouncing hair, which perfectly complimented her Versace dress. RadarOnline.com got all the details on Hil's 'do Do from her hairstylist, Robert Vetica.
When Robert laid his eyes on Hilary's champagne-colored Versace number, he was immediately inspired by the sensual lines of the knockout number. Deciding to go for a Bond Girl Ursula Andress look, the stylist-to-the-stars describes how he achieved long and loose look.
Article continues below advertisement
First, Robert blow dried Hilary's hair using Moroccanoil® Treatment, which conditions the hair and gives it a natural-looking shine.
Next, starting at the nape of the neck, he curled 1" by 1" sections of hair, pinning them on top of the head. This gave it a 60's style look, which could have been achieved by hot rollers.
After spraying the pinned up curls with Moroccanoil® Luminous Hairspray, he allowed them to set for 20 minutes.
Removing the curlers, Robert brushed them out and then took a small amount of Moroccanoil® Hydrating Styling Cream, for a little added weight and body.
Starting at the root, Robert did a backcombing, sprayed again, and then brushed it it out, except at the crown. Running his fingers through the hair to loosen it up, he then backcombed a little bit more at the crown, gave it a final spray and lightly brushed over the top.
For more information on the Moroccanoil® products Robert used, click here.