PHOTOS: The Sexiest Bikini Brides Of 2010!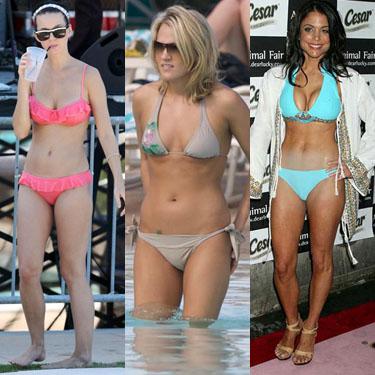 Nicole Richie wasn't the only sexy star to walk down the aisle this year!
Love was in the air in 2010, which means that several of Hollywood's hottest bikini babes were officially taken off the market.
RadarOnline.com has compiled photos of the top 10 sexiest bikini brides of 2010, as well as the men who put a ring on it!
Miranda Kerr is Aussie Angel that we can't get enough of-and neither can box office stud Orlando Bloom! The Pirates of the Caribbean star took the Victoria's Secret model's hand in marriage in July, and within a month, the couple announced there was a bun in the oven. There is no question about it-baby Bloom is going to be one gorgeous child!
Article continues below advertisement
Miranda wasn't the only Angel to drift into the arms of love this year. Doutzen Kroes announced that she got married to Sunnery James-and was preggers with his child-in November. See Doutzen stripped down here.
Carrie Underwood is one of the sexiest American Idols of all times! After getting played by Tony Romo, the country cutie fell into the arms of hockey stud Mike Fisher, and their romance was a fairy tale from the very start. The two lovebirds made it official in July, during a totally romantic ceremony in Georgia. See Carrie's curves here.
Real Housewife Bethenny Frankel was pregnant with Jason Hoppy's child, when the two married in March. While other stars prefer to keep their wedding on the down low, Bethenny broadcast hers on Bravo, on the reality show Bethenny Getting Married? See Bethenny looking Real sexy here.
And it was love at first sight for Katy Perry and Russell Brand, who traded vows in a private Indian ceremony in October, a little over a year after they met at the MTV Video Music Awards. See Perry looking boobiful in her bikini here.