PHOTOS: OMG Gaga And Sizzling Sofia In The Best And Worst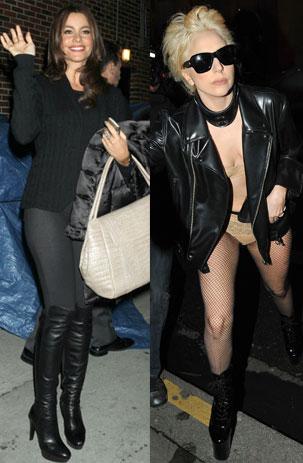 Stars bundled up braved the rain and the frigid temperature on Tuesday, scattered around the world dressed in the best and worst duds. RadarOnline.com has all the photos in our daily fashion. Click the next sentence to check them out.
Sofia Vergara brings sexy style wherever she goes! The sizzling hot Latina hit The Late Show with David Letterman in NYC, showing off her hot bod in spandex leggings and chic separates. Tres caliente!
Article continues below advertisement
Despite the 30 degree temperature in Paris, Lady Gaga hit the town nearly naked! The sassy singer who lives to shock, was clad in nude lingerie and black fishnet tights, showing more skin than we needed to see!
While Naomi Watts soaked up the sun Down Under in summer style, stars like Goldie Hawn and Zoe Saldana were bundled up in glam getup in Aspen.
Ashlee Simpson-Wentz, Rihanna and Kourtney Kardashian were out and about doing a little last minute Christmas shopping. While Ash and Kourt looked smashing in casually chic duds, RiRi sported a hot pink baseball cap, which clashed with her red hair.
Who else rocked and shocked? Find out in RadarOnline.com's daily fashion feature.