PHOTOS: Modern A La Mode And Desperate Disasters In The Best And Worst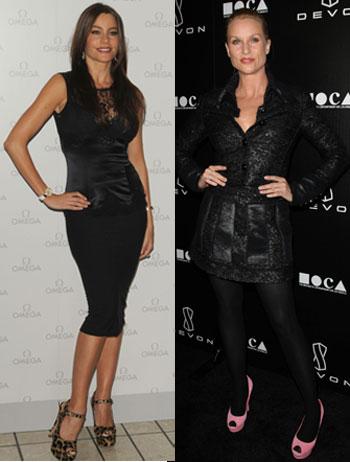 From television's most sizzling stars to smoking hot Victoria's Secret Angels, stars were out and about on Wednesday, dressed in the best and worst fashions and RadarOnline.com has scored all the photos!
Sofia Vergara is Modern Family bombshell! The spicy Latina star slithered into a totally sexy Dolce & Gabbana lace-embellished pencil dress and hit the OMEGA Beverly Center Boutique Opening in Los Angeles, prowling down the press line in leopard print Prada platforms. Does it get any sexier than this?
Article continues below advertisement
No question about it, Nicollette Sheridan is smoking hot, but her fashion sense is definitely walking the line of Desperate! The 47-year-old actress hit the star-studded red carpet opening of the Devon Flagship Store in Beverly Hills wearing a 'what was she thinking' ensemble, which consisted of a leather paneled coat dress, matte black tights and Pepto Bismol pink peep-toes.
At the re-opening of the Dior 57th Street Boutique in NYC, Natalie Portman, Amy Adams and Liv Tyler rocked ultra glam Christian Dior duds, while Saoirse Ronan looked lovely in a lace Miu Miu dress at the London premiere of The Way Back.
Victoria's Secret model Adriana Lima brought her sexiness to Illinois, looking red hot an appearance promoting the new $2 million Bombshell Fantasy Bra designed by Damiani jewelry.
Susan Sarandon felt the need to dress like the locals at the Marrakech Film Festival, experiencing a fashion flop in a blue Sari-like gown, while David Hasselhoff rocked Pirate duds outside of his London play.
See all the stars who rocked and shocked on and off the red carpet in RadarOnline.com's daily fashion feature.