PHOTOS: Bikinis! The Sexiest 2011 Calendar Girls Stripped Down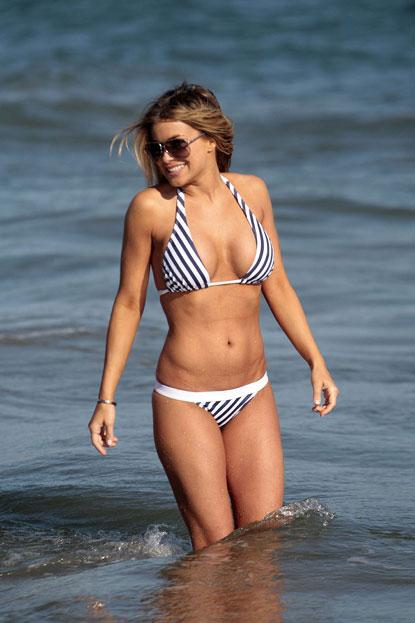 From winter to summer, these smoking bikini bodies will be splashed on the walls all over the world, in the form of 2011 calendars. From Jersey Shore and Gossip Girls to big screen bombshells and sassy songbirds, RadarOnline.com has scored photos of the sexiest calendar girls of this upcoming year. To see them stripped down and sexy in their skimpy bikinis, click the next sentence.
Click here to check out 2011's sexiest calendar girls stripped down
Article continues below advertisement
Kristen Stewart may keep her personal life undercover (namely her romance with Twilight hunk Robert Pattinson!), but she can't hide her flawless figure. The white-hot bikini babe recently steamed up the beaches of Brazil with her perfect-10 body, and she will surely steam up some college dorm rooms from January to December in her 12-month calendar. See her drool-worthy bikini body here.
Katy Perry and Beyonce both hit high notes, on the stage and with their ever-expanding beauty and fashion empires. It isn't surprising that the singing sensations, who both have totally bombshell bodies, added calendar girls to their resumes. See Beyonce make a splash on the beach here and Katy Perry here.
There may not always be a brand new Jersey Shore episode airing on MTV, but you'll find its most scandalous stars in the Jersey Shore 2011 calendar! But before you get your monthly fill of Snooki and J-WOWW, check out the bikini bad girls here.
Megan Fox and Angelina Jolie are constantly being compared for their sultry and beyond sexy looks, and now they have something else in common -- they are both 2011 calendar girls! You can bring the Transformer knockout and the Academy Award-winning sexpot home, and enjoy them 365 days a year. See Megan stripped down in her skimpy bikini here and Angelina here.
And of course Kim Kardashian has her own calendar. The reality star with the most covetable curves in Hollywood takes advantage of every opportunity to show off her hot body, especially when it comes time to hit the beach. See Kim's Kardashian curves here.
Who else scored their very own 2011 calendars? Find out on RadarOnline.com.
RELATED STORIES: