EXCLUSIVE PHOTOS: Angry Julia Roberts Protects Her Family From Photographer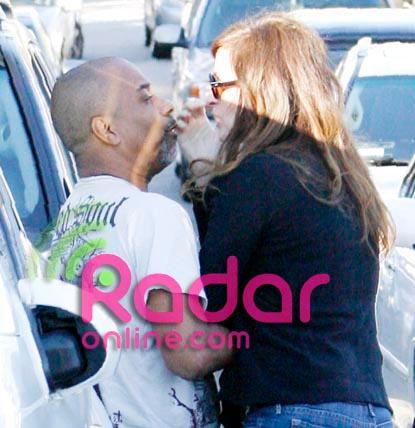 She's one Pretty Woman you don't want to mess with.
Like a fierce lioness protecting her cubs, Oscar winner Julia Roberts confronted a photographer -- getting right into his face -- after she spotted him snapping pictures of her family in Los Angeles this week.
The incident happened Monday as Roberts, 43, walked with her husband Danny Moder and her three children -- 6-year-old twins Hazel Patricia Moder and Phinnaeus "Finn" Walter Moder and 3-year-old Henry Daniel Moder.
Article continues below advertisement
While the usually affable Roberts has clearly shown she is happy to talk to the media -- whether it be on the red carpet or in press junkets for her films -- when it comes to her children, she has made it clear they are off-limits.
In 2007, she famously chased a paparazzo in her car -- wildly honking her horn at him -- until he pulled over. The usually zen Eat Pray Love star then chewed him out. As she told him to shut off his camera, she said: "I want to talk to you about the fact that you're at a school where children go. Turn it off!" (See video of the incident below.)
She was later asked by Access Hollwood about the incident and what she told the pap. Roberts replied: "I just told him a school is not a place for a grown man to be crawling around trying to take pictures."
She added: "If you want to take a picture of a person, then go to an adult place. Go to the coffee shop, go to the grocery store, go to the restaurant. Don't stake out someone's children's church, school or playground environment."
Article continues below advertisement
In January, 2009, Roberts had a similiar confrontation with another photographer. In this incident, she was once again caught on camera swearing and ranting at a paparazzo who she claims had been following her all day. The incident happened after she picked up her two children from a New Mexico school.
Roberts was driving around with her kids in the L.A. area when the pap approached her and said: "Hey Julia, how are you? You look great today."
Despite his 'friendly' greeting, Roberts became angry, and immediately parked her car in the parking lot of Islands Restaurant in Venice, California before eventually approached the pap, screaming at him: "You get the f*ck out of my face.. do you understand me?"
"You are harassing me. Get the f*ck out of my face. You have followed me all over town. I have had it with you." Roberts kept screaming at the photographer although he already apologized to her. "F*ck off! Aim higher! Get a life! Get away from me!", she said.
Article continues below advertisement
However, while Roberts has tried to keep her children out of the spotlight and give them a "normal" life, she has spoken publicly about her kids in the past.
This past May, while promoting Eat Pray Love, Roberts appeared on The Oprah Winfrey Show. Speaking about her kids, she said: "My favorite thing is just watching them wake up and watching them realize the day come upon them," Roberts said. "It's just…fascinating to me...
"They're so great and sweet and present," Roberts cooed. "That's the thing about being new to the world, is you're just so present and impressed with everything."
RELATED STORIES: