Introducing Gentry: Style Is In The Details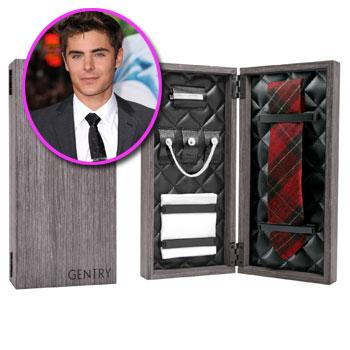 With the era of Mad Men and Boardwalk Empire in full force, it was only about time that the fashion world tapped into the nostalgia for a bygone area when women dressed as ladies and men took time to look dapper.
Now, a new accessories line is harnessing that everyday understated elegance by giving men an opportunity to add some key touches to their wardrobe on their journey to look more grown up, more dignified, and well, more handsome!
Article continues below advertisement
Gentry, from the creative minds of Greg Sato and Noted Communications' Annie Imamura, is a simple way for guys to upgrade their outfit through key accessories.
The line, which can be found here, groups collections under names of famous authors: The Fitzgerald Collection, The Hemingway Collection, The Salinger Collection. Though you can purchase pieces separately, the sets come in a sophisticated wooden grain box with elegant black padding inside that securely holds a tie, tie clip, pocket square, and tie bar. Each set also comes with a genius booklet to help the more clueless navigate the waters of proper menswear accessories.
Whether the occasion calls for evening wear or a polished daytime look, the collections offer a range of options from herringbone, linen, and cotton.
The polished conversation pieces have already found a strong following with Hollywood's most stylish men. For the Twilight: Eclipse premiere, Kellan Lutz rocked an understated tie clip and Justin Timberlake showed up to the MET Gala in the Gatsby accessories. Meanwhile, Zac Efron celebrated the opening of his new film Charlie St. Cloud by finishing his look with Gentry touches.
Article continues below advertisement
"We knew we wanted something that would include everything they needed to polish an outfit," Imamura, who designs the ties and pocket squares, has said in the past. Sato is responsible for crafting the hardware like tie bars and collar pins, all of which are made in Los Angeles.
"Whether it's the collar clip worn without a necktie or a tie pin and pocket square for a date, we wanted guys to be able to change it up while still looking timeless."