Exclusive
EXCLUSIVE: OC Housewife Gretchen Rossi May Be Forced To Pay $40,000 In Attorney Fees To Ex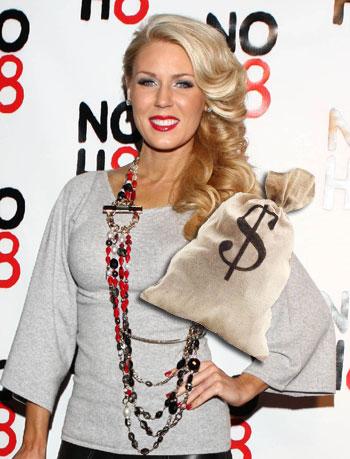 Another Real Housewife may be facing financial woes this holiday season and it isn't from buying holiday gifts.
Real Housewives of Orange County star Gretchen Rossi may be forced to pay ex-boyfriend Jay Photoglou a whopping $40,000 in attorney fees as a result of an anti-SLAPP motion filed by Photoglou in relation to a defamation lawsuit she filed against him.
Photoglou is also suing Rossi for libel, slander and five other counts. The lawsuit was originally filed in Los Angeles but for procedural reasons, was re-filed in Orange County.
Article continues below advertisement
Orange County Superior Court Judge Gregory Munoz tentatively ruled on Wednesday that Photoglou be awarded fees and costs of $40,799.38. An official ruling will be finalized Thursday.
This could mean more bad news for the platinum blonde reality star who faced another legal blow two months ago when the same judge threw out the crux of her defamation lawsuit against Photoglou, including claims of defamation, slander and portrayal in a false light.
"We are pleased that Jay may be able to recover at least a portion of the fees he incurred to simply set the record straight," Photoglou's attorney Bryan J. Freedman told RadarOnline.com exclusively. "The court clearly saw the truth here and Gretchen should be responsible to pay the costs incurred by our client in winning the motion and throwing out the crux of her disingenuous and legally untenable claims." Photoglou's attorney Bryan J. Freedman told RadarOnline.com exclusively.
Article continues below advertisement
Photoglou also has his own defamation lawsuit against Rossi, and Freedman assures that the case will go on.
"But the good part is she'll be writing a check for $40,000 or be held in contempt of court," he said.
Next, they will start the deposition and written discovery processes and move the case forward to ultimately be set for trial.
Rossi has, at times, denied she was romantically involved with Photoglou but he has provided ample proof of their former romantic relationship. Now, their only relationship exists in court, where they have battled continuously for the past year - and it doesn't look like the war is going to end any time soon.
"If it goes like it's been going, we'll prevail at trial," Freedman said.
BIKINI PICS: Gretchen In Hot Pink
"Frankly from my perspective I think every case should be settled if it can be, but I have no problem continuing to take legal victories from her along the path if that's what she chooses to do. If she's willing to write a big check, she can get it settled though."