EXCLUSIVE INTERVIEW: Where The Stars Shop For Caviar & Champagne -- Meet Hollywood's 'King Of Caviar'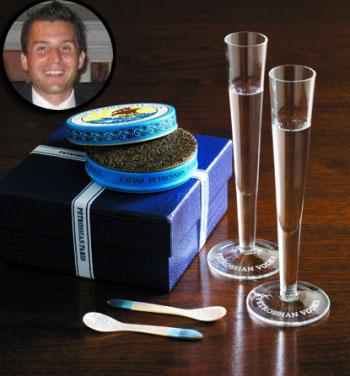 When the stars party for the holidays, you've got to believe there's plenty of chilled champagne and expensive caviar on hand.
But it's not only the rich and famous who like to indulge in the decadent delicacy that is caviar, it can make a great garnish at any holiday gathering -- and while caviar can be extremely pricey, it can also be affordable.
But let's face it -- buying caviar can be intimidating. Like us, you probably have a lot of questions: Do I have to spend a lot of money when buying caviar? What is it best served with? What's the deal with "imitation" caviars?
Article continues below advertisement
In honor of the holiday season, we decided to go to L.A.'s "King Of Caviar" -- Christopher Klapp, General Manager of the celeb-favorite restaurant/caviar boutique Petrossian West Hollywood -- to get some answers.
---
Radar: As someone relatively young, how did you become a caviar expert?
Chris: I am 31...and being from the Midwest, I have to admit I did not have a lot of experience with caviar growing up...
Working for Petrossian I have really come to appreciate the amount of expertise, time, care and investment it takes to bring Caviar to people. It has been a very unique and rewarding position to share with the people the many facets to not only what makes a great caviar, but also share the family history and legacy of presenting the finest caviars from around the world for the past 90 years. I also continually find amazement in the sturgeon itself. Whether it be their prehistoric origins or their immense diversity in the eggs that are used to make caviar, they are truly remarkable fish...
Article continues below advertisement
Just as a sommelier needs to be well versed in the wide variety of grapes, so I need to be able to walk a customer through the many differences in the species of sturgeon and the caviar created from their eggs.
Radar: What makes a true caviar? Is there a difference between "black" and "red" caviar?
Chris: The only roe (fully ripe fish egg) that can be called Caviar is for the sturgeon. Salmon is sometimes known as "Red Caviar" but is mislabeled, it is simply salmon roe.
Radar: For the non-caviar expert, what makes a great caviar?
Chris: Caviar is sturgeon roe and salt. It is important to note that it takes a very skilled hand to select, salt, care for and deliver to market the final product of Caviar. The Petrossian family has been doing this for 90 years and with their long history of expertise continues to bring the finest Caviars in the world to market.
Radar: We know that caviar can be extremely pricey, but is there a good quality caviar that's relatively inexpensive?
Article continues below advertisement
Chris: Caviar is an affordable luxury. The image of Petrossian and caviar is one of luxury. We have been synonymous with those qualities since we began in Paris in 1920. But with our extensive roster of caviar, we have now made caviar an affordable luxury. Our farm raised White Sturgeon from Northern California is a perfect example of this. Starting at $49 for 1 ounce, it is a quality product that is extremely popular. Caviar will never, ever be cheap, but at Petrossian we are making it affordable.
Radar: Caviar dates back 2,000 years to ancient Greece. Tell us a little about its history, and what is being done to keep the sturgeon from becoming extinct?
Chris: Something that continually fascinates me is the prehistoric origins of sturgeon. Being more than 200 million years old as a species and having little morphological change in that time is nothing short of amazing. They've outlived the dinosaurs and yet within 2000 some odd years, we humans have pushed 85% of all sturgeon species to being critically endangered. Mr. Armen Petrossian continues to be a committed steward of the preservation of the sturgeon.
Article continues below advertisement
There are many different species of sturgeon that farm raised and harvested for their roe to produce Caviar. Currently some of the species we offer are Kaluga, Ossetra, Transmontanus, Shassetra, Siberian, American Hackleback and we also carry the roe of Trout, Salmon and Paddlefish at our Boutique.
Knowing the species of the fish that the eggs are from is the most important element of selecting your caviar.
Radar: Is there one country that produces the finest caviar?
Chris: The geographic location, while something to note, is not a determining factor of the quality of the Caviar. Petrossian continually travels the world finding the best Caviar whether it be Europe, Middle East, Asia or the United States.
Radar: How is caviar best served?
Chris: Petrossian Caviar is best served by itself using a mother of pearl spoon. Never eat caviar with a metal spoon. (Metal can impart a metallic taste to the fragile eggs).
Article continues below advertisement
When enjoying Caviar it is preferable not to mask or dilute the flavor of the caviar. On a blini with crème fraiche is a very popular way as well. One should never use chopped red onion or chopped egg as it completely takes away from the complex and sublime experience one can have eating caviar.
Radar: What drink goes best with caviar?
Chris: When enjoying caviar having vodka is my drink of choice. Champagne or a dry white wine is also a nice complement as well. But vodka is the way to go. It cleanses the palate so that you can enjoy every pearl of caviar.
Radar: Just like a true champagne only comes from France, "real" caviar comes from sturgeon eggs, so if we're at our neighborhood grocery store, we really need to be careful not to buy a cheap imitation, right?
Chris: It is important to mention there are a lot of products out in the market that do not give the consumer all of the necessary information when it comes to what they are actually purchasing. I constantly see things labeled as Ossetra and Sevruga and on occasion Beluga, and after examining the product further realize the eggs may be from a similar species, but are not the true Caviar of these fish.
Article continues below advertisement
I am proud to work for a company that goes out of its way to explain and share the origins of the eggs and takes the time to educate the guest through the tasting notes to find them caviar that will be truly memorable.
---
Special thanks to Christopher Klapp and to Petrossian West Hollywood Executive Chef Giselle Wellman.
In addition to it's West Hollywood location, Petrossian also has restaurants in New York and Paris and sells a large variety of gift baskets -- perfect for holiday gift giving.
For more information, go to http://www.petrossian.com/
Interview conducted by Neil Woulfe/News Director, RadarOnline.com, 8-Time Emmy Award Winner & Aspiring "Foodie"