Exclusive
EXCLUSIVE INTERVIEW & PHOTO: Jersey Shore's Angelina Gets 'Misunderstood' Tattoo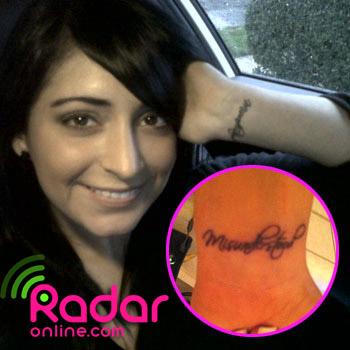 Jersey Shore outcast Angelina has been so traumatized by her on-air experience on the hit MTV show that she decided to get a permanent reminder of it.
Angelina, who describes herself as "the victim of a bad edit," reveals exclusively to RadarOnline.com that she recently tattooed the word "misunderstood" on her wrist -- a word that she feels best represents who she is following her negative portrayal on the hit reality show.
Article continues below advertisement
"I knew I wanted to get a tattoo and my friends felt that the word "misunderstood" best described me," Angelina explained.
Inked in script lettering across her left wrist, the reality star says that the word was a perfect fit for her.
"It's true, because I was portrayed as the worst person on Jersey Shore and I know that is just not who I am."
Angelina endured a great deal of ridicule while shooting Jersey Shore and it continued after she left the show.
During a recent taping of celebrity boxing, fans threw sanitary pads at her because Mike "The Situation" Sorrentino claimed Angelina left a dirty pad in the bathroom during taping of the second season and he placed it in her bed.
"I know I'm an easy target because I always say what I think, but really... forgive me for being real... I don't sugar coat but I mean well. I feel that if most people actually say what they feel, they would look a whole lot worse than me."
Article continues below advertisement
AUDIO: Pauly D And The Situation Nickname Ryan Seacrest "The Pulsation"
Despite being misunderstood, Angelina has been keeping busy with appearances across the country and has had some positive response from her fans.
Her recently released single, I'm Hot, has brought her loads of attention and she has plans to record a new song.
With all that the reality starlet has done, Angelina continues to plan her future and makes no excuse for who she is, telling RadarOnline.com, "I'm real and I won't change."