Who Wore It Best? Madonna Vs. Blake Lively In Stella McCartney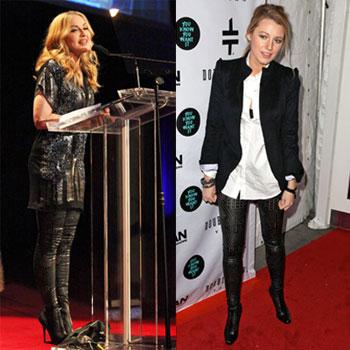 Though it is usually designer clothes that garner most of the attention on the red carpet, every now and then a pair of shoes manages to steal the style spotlight! Stella McCartney's perforated thigh-high boots have made quite an impression with who's who in Hollywood, with Madonna and Blake Lively both rocking the $1,595 butt-kickers nearly a year apart. Though both ladies were fiercely fashionable modeling the fancy footwear in their own unique way, only one of them wore Stella McCartney best!
Article continues below advertisement
Blake Lively rocked the faux-leather, 5-inch stilettos to the You Know You Want It publication celebration at Henri Bendel on January 12th as pants! Paired with a Nonoo Lyons Karenina tailcoat, a Barlow clothing blouse and a black Chanel watch, the blonde babe was in Gossip-worthy style.
Madonna hit the stage of the Fashion Delivery Awards in NYC on Wednesday, wearing Stella's sassy boots with a sequined mini.