VIDEO: Brandy A Class Act On Jimmy Kimmel Following DWTS Stunner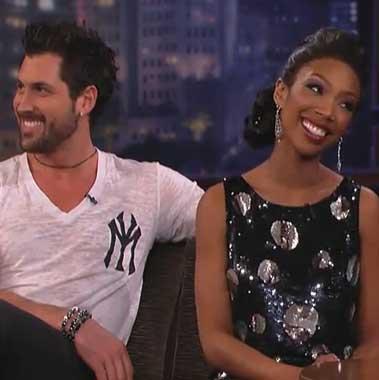 Following her shocking elimination from Dancing With The Stars Tuesday, Brandy and pro partner Maksim Chmerkovskiy appeared on Jimmy Kimmel Live! to discuss her surprising loss to Bristol Palin.
Watch the video on RadarOnline.com
The 31-year-old singer, who was practically speechless and in tears as the credits ran on DWTS Tuesday night, pulled herself together on Kimmel, staying poised and positive in the face of defeat.
Article continues below advertisement
"My confidence is back, I believe in myself more now," she said, while Chmerkovskiy said, "We have no regrets ... it's up to the people."
Kimmel, putting the shocking elimination into clear perspective said, "I blame America for this.
"There's certain people that are clearly better than others on the show dancing-wise," he said, noting viewers don't usually vote for the front-runners under the rationale others will.
As we previously reported, Chmerkovskiy had a run-in with judge Carrie Ann Inaba on last week's program, as Inaba's nitpicking toward Brandy and Chmerkovskiy boiled over at the end of the pair's cha cha, when Chmerkovskiy told Inaba, "Don't worry about it," with a scowl.
After Inaba told them their dance's shortcoming had "a lot to do with the choreography," Chmerkovskiy said, "It's all me, I'll take the blame," to which Inaba coolly responded, "Good -- I'm glad you do."
Article continues below advertisement
Kimmel on Tuesday stirred the pot, asking Chmerkovskiy if the war of words might have been a bad political move that hastened their ouster.
"I wasn't upset, I just stood up for Brandy's dancing," the Russian beefcake told Kimmel. "I don't think it's necessary to criticize at all if you liked Brandy's performance ... if you don't like my interpretation, tell me behind the scenes."
Chmerkovskiy said he and Inaba had made up "to an extent."