PHOTOS: Michelle 'Bombshell' McGee: Ho-Ho-Ho!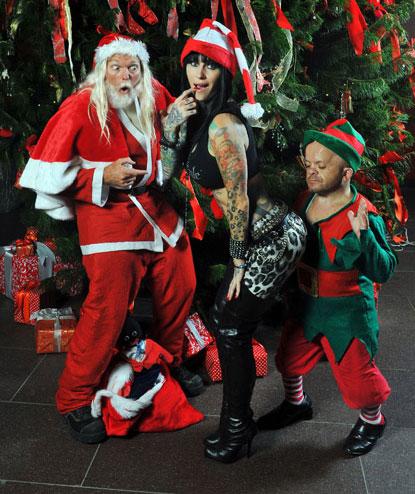 Michelle "Bombshell" McGee sure knows how to put the "Ho-Ho-Ho" in Christmas.
The tat-lovin' McGee -- best known as Jesse James' mistress #1 -- posed with a naughty looking Santa and his equally randy elf at "Sexpo" -- an adult entertainment exhibition -- in Melbourne, Australia on Sunday.
McGee says that the last time she was in Australia, a psychic told her she would find a new man Down Under.
"The last time I was here (in October), I got a reading and she told me I would meet my future husband in Australia," McGee said.
Article continues below advertisement
"She said I will meet him in Melbourne on this trip. Now I just have to find him. I know what he looks like.
"He is somehow involved in the music industry, she told me."
No word if McGee found her soul mate, but she did say she's looking forward to her next project - her first film role. ( Yep, you read that correct.)
"I'm doing a Bollywood film in Indonesia," McGee said. "I will be going to Jakarta and it is going to be amazing. "I am curious to be seeing what role I will be playing."