PHOTOS: Kate Middleton's Style Secrets!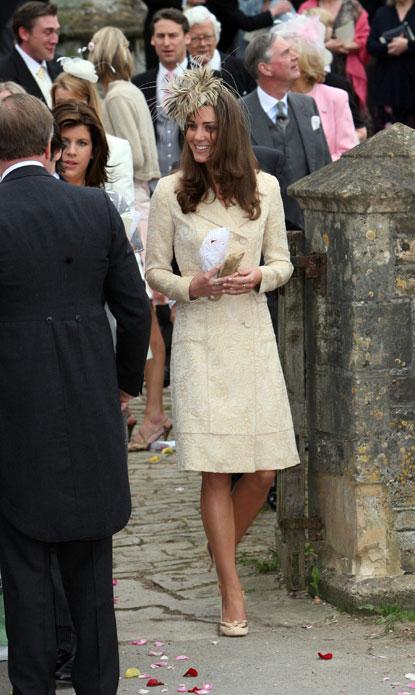 Future royal Kate Middleton is already one of the most followed fashion-savvy females in the world, securing spots on nearly every international best dressed list. The casual and cool beauty has an effortless and cool fashion identity, always wearing the latest trends in city-savvy style.  What are the secrets to her undeniably fabulous fashion sense?  RadarOnline.com investigates!
With her flawless features and slender legs-for-miles, it isn't hard for the future princess to look great in everything!
Article continues below advertisement
Looking at photographs of Kate over the years, it is clear that she has a solid style identity that is timeless and true to her roots.  While she may incorporate bits and pieces of current trends, her style is timeless in nature and she knows how to flatter her features in the rights silhouettes and colors.
Though Kate's parents are self-made millionaires, the brunette beauty doesn't spend wads of cash on her clothes.  Though Kate has access to high fashion and couture, she remains relatively absent from the front row at the shows during London Fashion Week.
While many public figures gravitate toward a certain designer, Kate has no allegiance as of yet, opting to shop at mid-level stores like Topshop and Jigsaw (where she worked for several years).
Kate already has a profound influence on the fashion industry.  When she wore a frugal frock from Topshop on her 25th birthday, the dress sold out within 24 hours!
Often spotted in jeans and t-shirts, she manages to look polished and put together in the most casual of ensembles.
Article continues below advertisement
And when it comes to footwear, Kate opts for flat boots and comfortable wedges over towering heels. She has even been spotted in UGG boots and Crocs!
As Kate transitions into the royal family, she is sure to continue the fashion legacy that Princess Diana left behind starting with her wedding dress.
Fashion insiders are already speculating that the future princess will opt for a gown from one of the several established British designers, and that it will likely influence bridal fashion all over the world for years to come.
One thing is certain about Kate Middleton's future in fashion: though her style will clearly evolve as she fulfills her royal duties, the gorgeous working-class girl will have that girl-next-door quality about her!