PHOTOS: Is Kate Middleton The New People's Princess?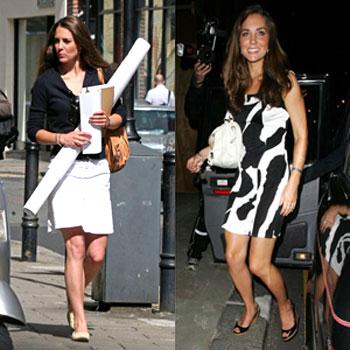 Kate Middleton's romance with Prince William has gotten one step closer to a fairytale ending as the first born son of Prince Charles and Princess Diana finally popped the question to the middle-class Brit babe.
Over the years, the 28-year-old has been compared constantly to the late mother of her groom to be, regarding everything from her non-royal background to her keen sense of style. Who is this future royal and what makes her different from the ones who came before her?
Article continues below advertisement
While Princess Diana was part of an aristocratic family, Catherine Elizabeth "Kate" Middleton was born to hard-working, middle class parents who became wealthy in the late 1980's due to a successful party supply and decoration company.
Kate, who has always been known for her superior sense of style and confident demeanor, met the future King while studying at the University of St Andrews in 2001.
Though her life definitely changed when she started dating the heir to the throne, Kate managed to stay authentic to herself and her career goals. After graduating from the university, Kate took a job in London as an assistant accessories buyer for the clothing chain Jigsaw.
Always fashion forward, Kate has been on numerous international Best Dressed lists, just like Diana.
But while William's mother was famous for her beyond sophisticated and conservative style, Kate's trademark look is a little more current and slightly more daring with shorter skirts, lacy tights, and modern prints and designers.
The romance between the future King and his bride-to-be wasn't always a walk in the park: the couple endured more than one temporary break in their years-long relationship. Set to marry sometime in 2011, Kate will be the oldest bride to ever marry a future King of England at 29. Princess Diana was only 19 when she got engaged to Prince Charles.
Article continues below advertisement
And talk about a modern romance! Kate is even 6 months older than her future husband while Diana was 13 years younger than Prince Charles.
Why is Kate going to be the People's Princess? Not only does she come from a middle-class background, but she has brains, beauty and a clear sense of self. Throughout her relationship with William, she has made it clear that she has a strong backbone and isn't going to settle for less than she deserves. Kate is sure to be the most "modern" princess this world has ever seen!