PHOTOS: Bikinis! Sexy American Beauties Show Off Their Bods In Patriotic Colors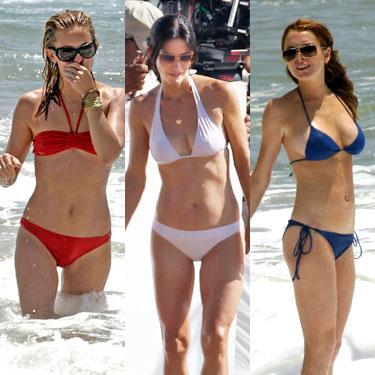 The ballots have been cast and the results are in!
From sea to shining sea, RadarOnline.com has photos of the sexiest red, white and blue bikini babes in all the land in this special Election Day feature.
What American beauties made the patriotic hot list? You can only find out in our sizzling photo gallery.
Kate Hudson is born and bred SoCal star who looks red hot in a skimpy swimsuit!
The blonde babe loves to splash around the Malibu beaches with hunky national treasures on her arm like Owen Wilson and Lance Armstong -- though we may lose her to rockin' Brit boy Matt Bellamy!
Article continues below advertisement
Cameron Diaz is another star-spangled leading lady who heats up the beach in sexy style.
The big screen bombshell is a huge fan of our national pastime, the game of baseball -- or more specifically -- its players!
See Cam makes waves in her skimpy red bikini.
We hope Lindsay Lohan filled out her absentee ballot this year, as the bikini bad girl is locked up in a swanky Palm Springs rehab center this election.
See Lindsay show off her babelicious bod in blue.
Miley Cyrus may not be old enough to vote in this election, but the 17-year-old star is one of the most famous not-yet-legal stars in the world.
Miley isn't shy about stripping down into sexy style, whether onstage in scandalous costumes, or on the beach in skimpy red and white bikinis.
Don't miss Miley in her teeny-weeny polka dot bikini.
While Tori Spelling and AnnaLynne McCord keep it sexy in the 90210 zip code, Kelly Bensimon keeps the flags waving on the East Coast, managing to make even a one-piece swimsuit painfully sexy.