NEW DETAILS: Man Upset With Bristol Palin's Dancing Shoots TV, Leading To SWAT Standoff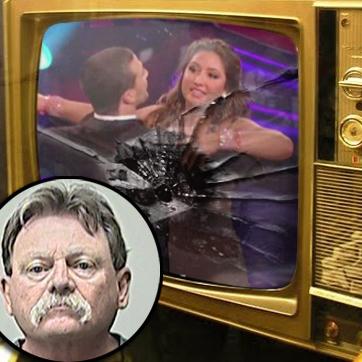 Meet Steven Cowan.
The 67-year-old Vermont, Wisconsin man blasted his TV set with a shotgun watching Monday night's edition of Dancing With The Stars, RadarOnline.com has learned, because he didn't care for the steps of one Bristol Palin.
It gets weirder from there: Court documents reveal that after unloading into the TV set, Cowan pointed the gun at his wife, who escaped the house and summoned police, telling them her husband was drunk and threatening suicide. His wife was not harmed in the attack, police told us.
Article continues below advertisement
At that point, Cowan barricaded himself into his house, resulting in an all-night stand-off with a SWAT team, who set up a perimeter around the property and talked him out of the home early Tuesday.
Cowan - who police said reportedly suffers from psychiatric issues - was charged with felony second-degree reckless endangerment, which if he's convicted, can land him behind bars for up to 10 years in prison and cost him as much as $25,000 in related fines.