EXCLUSIVE NEW DETAILS & VIDEO: Pauly D Sparks Mob Scene At University Of Rhode Island; Cops Called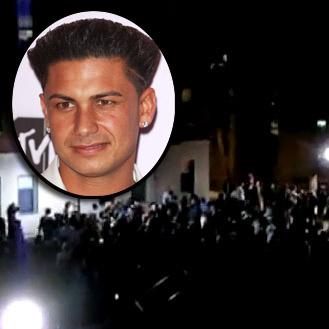 A mob scene broke out at the University of Rhode Island Thursday, where Jersey Shore's resident record spinner Pauly D was visiting a friend, as more than 1,000 students flocked to and surrounded the building the MTV star was in, within a matter of minutes.
Watch the video on RadarOnline.com
Students quickly crowded the building Pauly D (a native son of The Ocean State) was in, as word of his presence on campus went viral through Facebook.
Article continues below advertisement
The stampede of students eventually caused police to be summoned for crowd control purposes, according to the school.
A pal of Pauly D's told us: "People started knocking at the door of the dorm room he was visiting. He looked outside and saw thousands of people in the parking area surrounding his car and he realized he couldn't get out.
"Pauly called his personal body guard Jerry Gialanella (Big Jerry) and his road manager Mike Morgan (DJ Biggie) and they called the police and came over.
"There were 10 police cars and half the campus was shut down and the roads were in chaos, it was scary."
Our source also tells us that Pauly D couldn't get out of the room so Jerry grabbed him in a bear hug (wrapped his arms around him) and the police held people back so he could get to his car.
"It wasn't like anything the guys had ever seen, He turned and hugged him with one arm and just bulldozed everyone. It was insane, the college kids were grabbing him, there had to be over 1500 people there."
They made it through the huge crowd with the help of the Rhode Island police.
"He handled it really well even though it was scary, he laughed it off", the pal added.
"The police told him that he wasn't allowed back to the campus without making pre-arrangements and calling the Rhode Island police first."
After the incident, Pauly D Tweeted: "See What Happens When Im In Town For 1 Day Lmaooo."
RELATED STORIES: