EXCLUSIVE COURT DOCUMENTS: 'I Was Raped With My Clothes On,' Says Woman Suing KISS Rocker Gene Simmons For Dry Hump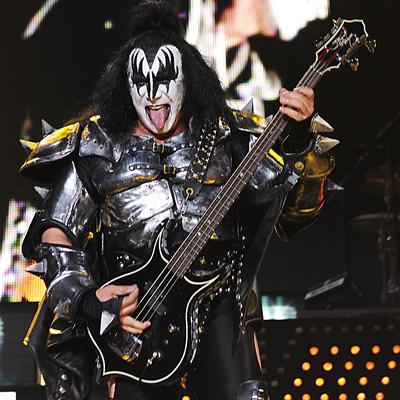 The ESPN makeup artist who claims rocker Gene Simmons ground his groin into her has testified that she feels "like I was raped with my clothes on."
Read Deposition Here
Simmons filed a preemptive lawsuit against Victoria Jackson in May, insisting he couldn't have sexually assaulted her at ESPN's Los Angeles studios after appearing on "Sportscenter" because he was wearing his KISS costume - "the equivalent of a suit of armor" - at the time.
Article continues below advertisement
Read Court Document Here
But Jackson has herself sued Simmons.
And asked in an August 10 deposition to describe the emotional injuries she's alleging, the woman replied: "Emotionally, an overwhelming sense of sadness, nervousness, anxiety, a lot of shame and - just I feel like - I feel like I was raped with my clothes on."
DOCUMENTS: Victoria Jackson Sues Gene Simmons For Sexual Harassment
Under questioning by Simmons's lawyer, Jackson also said the alleged November 24, 2009 assault affected her sleep.
"I had a sense of somebody just taking something from me," she continued.
"Just a violation, a complete and utter violation, a disrespect for me and my body, myself as a - as a human being."
Excerpts from the deposition were attached as an exhibit to a motion in which Simmons has asked a judge to compel Jackson to be examined by a psychologist.
His lawyer argues that she has made her mental health a relevant issue by claiming damages for emotional distress.
Article continues below advertisement
In court papers, Jackson says nothing in her allegations requires a mental health examination by an expert and that Simmons's request is a "cynical tactic" and "simply one more attempt to be as intrusive as possible in order to harass and intimidate her."
VIDEO: Gene Simmons Talks About Breast Cancer
She testified in her deposition that she saw a psychotherapist in 2007 but "It wasn't anything that serious."
Simmons has accused Jackson of "shakedown tactics" but Jackson alleged in her assault suit that he approached her, said "I like you" in "a lecherous and inappropriate manner," and then "humped Plaintiff to the extent that she could feel his groin grinding into her. When he was done, Klein said, 'Aw, that's better! Now you can go.'"
According to a recent court filing by Jackson, another ESPN employee has confirmed her allegations, testifying in a deposition that Simmons "entered the room in which Jackson was working, made a bee line straight for her and then started humping her."
Article continues below advertisement