COURT: Elizabeth Smart Forced To Relive Alleged Rape: 'I Tried To Fight Him Off Me'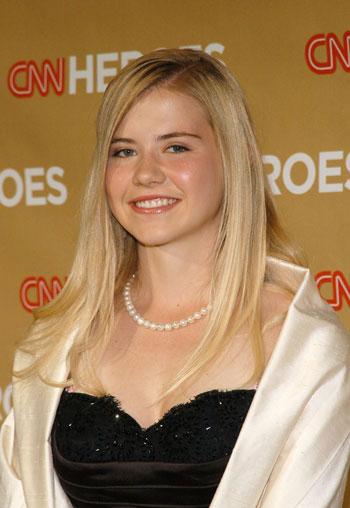 In dramatic and graphic testimony, Elizabeth Smart took to the stand in Salt Lake City, Utah, on Monday in the federal trial of her accused kidnapper, recounting how Brian David Mitchell allegedly told her: "I was his hostage."
Smart, 23, told the court she was forced to walk five hours in the woods, before meeting Wanda Barzee, who forced her to remove her pajamas and put on a robe, where Mitchell performed a "marriage" ceremony.
Article continues below advertisement
Elizabeth Smart Testifies About Kidnapping, Reveals New Details Of Ordeal
"I was crying a lot so I didn't realize what was going on a first," Smart said, insisting she screamed 'No'.
Wearing a red jacket and black and white skirt in court, the blonde woman described how Mitchell allegedly sexually assaulted her -- and we warn -- Smart's recollection is extraordinarily horrific.
She said, "He forced me off the bucket and onto the bed that he had made, where he proceeded to um fight me to the ground and force the robes up and he raped me."
"I told him that I was just a little girl and that I hadn't even started my period yet. He yelled out to his wife and asked if that was still OK and she said it was and then he continued.
"I tried to fight him off me. But a 14-year-old girl against a grown man doesn't even out so much. I turned over onto my stomach because I thought that if I was on my stomach that he wouldn't be able to do anything.
Article continues below advertisement
"Sadly, I was mistaken."
Eight years after her abduction, Smart testified how Mitchell put a cable around her ankle and locked to a tree.
"It was a twisted wire sort of cable with a plastic covering that went on top of it," she told court.
Elizabeth Smart Is "Doing Great" & Headed To Paris As A Missionary
"It was connected around my ankle. The plastic had been cut off so it was just the raw metal against my ankle. It had been wrapped with duct tape so the ends would not cut me or scrape me anyway.
MORE ON:
Brian David Mitchell
"There were several locks involved in the cable: one of the ends of the stationary line was locked around a tree and the other end of that made a loop at the very end and came back through it so the only way to unhook that was by cutting it or un-connecting the entire cable in the entire system.
Elizabeth Smart Testifies About Kidnapping, Reveals New Details Of Ordeal
"Then my cable that was connected to me that was movable was fastened with a lock with a movable cable between eight and 10 or 12 feet long, and it was bolted around my ankle."
Article continues below advertisement
She said that she told him she wouldn't leave and recalled: "He said he knew but that he was putting temptation out of my reach."
SHOCKING PHOTOS: Inside of Jaycee Lee Dugard's Kidnapper's Home
Elizabeth also testified about her resolution to return home to her family.
"A little bit after the shock of everything that had happened, I started to think about my family, my parents, what my life had been before," she passionately told court.
Read Elizabeth Smart's Testimony
"It didn't matter what happened to me, my parents would always love me, no matter what he did to me.
"That couldn't be changed, that I still was a person of worth.
"I felt like prostitutes in this life had a better life than I did in that moment and that I at least deserved that. No matter what it took, I would live. I would survive and do everything he told me to do to keep my life and my family's life intact."