Cher's Slip Of The Tongue: 'Chaz's A Smart Girl - Boy!'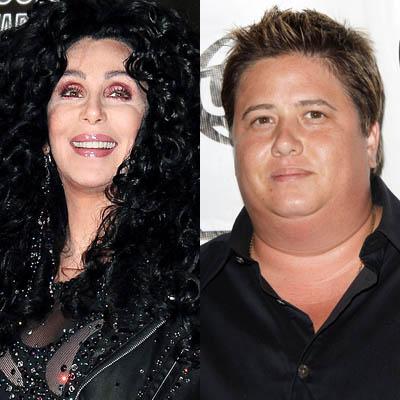 You can't really blame Cher.
In the new issue of Vanity Fair, Cher has a slight slip of the tongue, and refers to her transsexual child Chaz as a "girl", before quickly correcting herself.
The magazine quotes Cher as saying: "If I woke up tomorrow in a guy's body, I would just kick and scream and cry and f**king rob a bank, because I cannot see myself as anything but who I am - a girl. I would not take it as well as Chaz has. I couldn't imagine it...
Article continues below advertisement
"She's a very smart girl-boy! This is where I get into trouble. My pronouns are f**ked. I still don't remember to call her 'him.'"
As RadarOnline.com has previously reported, Chaz ( born Chasity) completed his gender-reassignment last year, and now lives as a man in West Hollywood, California.
Other highlights from the article:
Cher on Sonny:
"Sonny told me when we were together, 'One day you are going to leave me. You are going to go on and do great things.'... I wouldn't have left him if he hadn't had such a tight grip-such a tight grip."
Cher says Sonny treated her "more like a golden goose than like his wife... I forgive him, I think. He hurt me in so many ways, but there was something. He was so much more than a husband-a terrible husband, but a great mentor, a great teacher... If he had agreed to just disband Cher Enterprises and start all over again, I would have never ever left. Just split it down the middle, 50-50."
Cher on Sarah Palin:
Article continues below advertisement
"I got so obsessed with C-SPAN that it was kind of interfering with my life. Sarah Palin came on, and I thought, Oh, f**k, this is the end. Because a dumb woman is a dumb woman."
Cher on aging:
"I think Meryl Streep is doing it great. The stupid b*tch is doing it better than all of us! But I don't like it. It's getting in my way. I have a job to do, and it's making my job harder...
"I've been screaming at the top of my lungs at my family, 'Work out! Work out! Old age is coming!' At some point you will need the strength. Who would have ever thought you would get this old?"
Cher on her family and drugs:
"It's weird, because both of my children had the same drug problems as their fathers-same drug of choice. My father was a heroin addict, and my sister's father was an alcoholic. But it jumped us... I didn't not do drugs because of moral issues. I tried a couple of drugs, but I never felt good out of control. I have the constitution of a fruit fly. I can't do coffee, but I can do Dr Pepper."
Article continues below advertisement
Cher on parenting and whether her children are still angry with her:
"I think Chaz is pretty much finished with it, and I think Elijah has a little longer to go, but they both really love me a lot. But it's hard...
"One time, when Chaz was little, we were on a field trip, and she said, 'I'm so pissed off, Mom. You can never not be Cher - we can never just do something...
"So your kids pay. I did the best I could do, and yet it was definitely lacking."
The December issue of Vanity Fair hits newsstands in New York and Los Angeles on Thursday, November 4, and nationally and on the iPad on Tuesday, November 9.
RELATED STORIES:
Chaz Bono Battling The Bulge, Again