VIDEO: Margaret Cho: 'I'm So Proud Of What We Got To Do'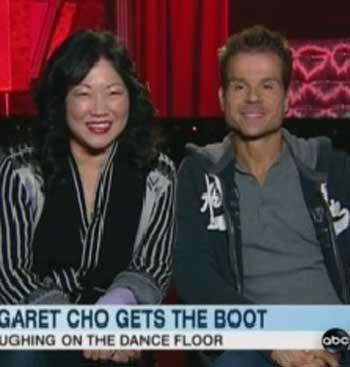 The morning after she was voted off Dancing With The Stars, comic Margaret Cho appeared alongside her dance partner Louis Van Amstel on Good Morning America Wednesday, and talked about her three weeks of hustle and bustle for the ABC ballroom hit.
Watch the video on RadarOnline.com
Cho said she's been traveling "all over the world practicing on tour buses and laundry rooms" with Van Amstel, who she gave a spot in her (comedy) routine.
Article continues below advertisement
"I've been a fan of Margaret's stand-up for years and to see it every night, what a treat it was," Van Amstel said.
Cho's last dance Monday was a tribute to gay pride after a recent spike of gay teen suicides, such as Tyler Clementi, the 18-year-old Rutgers freshman who killed himself after classmates outed him.
"We wanted to tell a story that was really about pride," Cho said of her dance, in which she donned a memorable rainbow-colored outfit. "We wanted to impart that message of pride to all kids out there ... its all about pride and I'm so proud of our dance -- I'm so proud of what we got to do."
Van Amstel added, "We wanted to show with the rainbow flag that we're all living on this planet together and let's appreciate each other's differences."
As for which one of her colleagues she'll be rooting on as the show progresses, Cho said she's rooting for everyone.
"I can't wait to see the dances," she said. "Its a phenomenal, phenomenal, phenomenal cast."
Dancing With The Stars' eleventh season continues on ABC next Monday at 8/7c.