VIDEO: Florence Henderson 'Very Surprised' At DWTS Elimination, Tells Jimmy Kimmel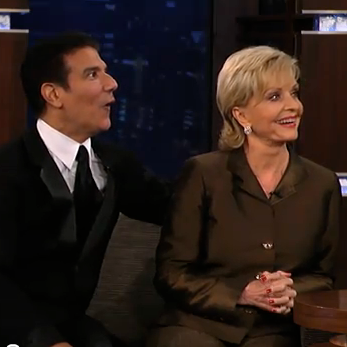 Following her elimination on Tuesday's Dancing With The Stars results show, Brady Bunch mom Florence Henderson appeared on Jimmy Kimmel Live to chat up her run on the show, which made for a comedic feast for Kimmel, an obvious fan of the 70s sitcom.
Watch the video on RadarOnline.com
The 76-year-old actress admitted she was "very surprised" to be eliminated, to which Kimmel said, "When you saw Bristol Palin in that gorilla thing, you must have thought, 'We got this wrapped up this week, no problem.'"
Article continues below advertisement
Kimmel brought up Brady Bunch alum Barry Williams' cameo on Monday night's show, as the former "Greg Brady" hugged and kissed his TV mom when the two were reunited on camera.
Kimmel asked Henderson, "Do you think when America saw you kissing Greg Brady, America thought, 'What the hell's going on here? This cannot happen again, who knows where they'll go next week!'"
Henderson responded, "Jimmy, he's not really my son."
Henderson, who was accompanied by dance partner Corky Ballas, said she's been a longtime fan of the ABC ballroom hit and deemed her run on the show a "fabulous experience."
"It's the greatest crew over there," Henderson said, to which Kimmel replied, "Ours is better."
Dancing With The Stars' eleventh season continues on ABC Monday at 8/7c.