Superhero Style For Kids: Little Capers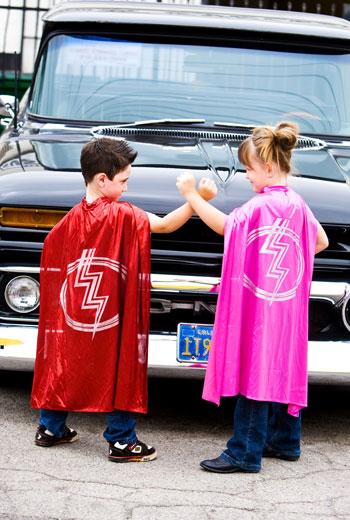 Little kids love dressing up in costumes -- whether it is Halloween or any other regular day -- and while it may be difficult to take out your tot in a princess gown and heels a la Suri Cruise, we discovered an ultra-adorable kids clothing line that is no fuss and oh-so-much fun!
Little Capers is a collection of superhero t-shirts and dresses for children come with detachable capes and matching Powerbands, and all feature colorful, non-commercial and non-violent icons, which are meant to inspire kids to create their own "superhero" identity instead of imitating popular movie and television supermodels.
Article continues below advertisement
Liam McDermott (Tori and Dean's adorable son) is a fan of Little Capers, wearing one of their designs on an episode of Tori & Dean: Home Sweet Hollywood this season.
RadarOnline.com tested out Little Capers most popular styles Bolt Boy and Zap Girl, with real life children, and let's just say it was a struggle getting them to take off the fabulously fun fashions.
Most of the designs retail for $46 and are available on the Little Capers website.