Skin Sins And Wardrobe Wins In The Best And Worst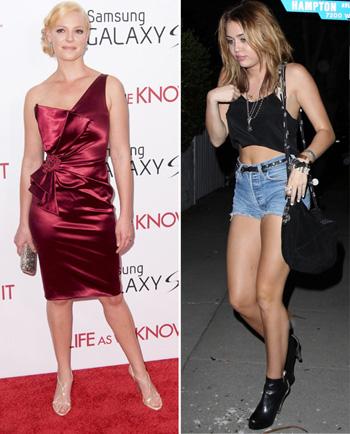 Miley Cyrus keeps letting everyone know that she most definitely Can't Be Tamed! The not-yet-legal starlet hit up the Hollywood hotspots on Thursday night (isn't there a curfew when you are 17-years-old?) scantily clad and showing plenty of skin in tiny denim cutoff shorts and a crop top. They say less is more, but in the case it really wasn't enough!
Katherine Heigl looked Life As We Know It divine at the NYC premiere of her latest flick. The beautiful blonde modeled a figure flattering one-shouldered cocktail dress from the David Meister collection with sexy silver Rene Caovilla silver sandals. Also dressed to impress on the red carpet was mother-to-be Ali Larter, who fabulously flaunted her baby bump in a sexy, skintight black lace mini dress.
Article continues below advertisement
Alexis Arquette + Bobby Trendy = the ultimate fashion disaster! The two Worst Dressed list re-offenders were spotted outside of a Hollywood nightclub together, resulting in a double wardrobe whammy.
Over in Paris fashion's fabbest, including Tyra Banks and Gisele Bundchen, were gowned in the most glam of designer duds at the Vogue 90th Anniversary Party in Paris, while the chicest New Yorker's hit the 7th Annual Keep A Child Alive Black Ball, where Alicia Keys demonstrated her knack for maternal mode in a lace strapless Dolce & Gabbana gown.
What other sins and wins occurred on the fashion front? Check out the gallery in Style to find out.