Sexy (Or Too Sexy?) In The City: The Best And Worst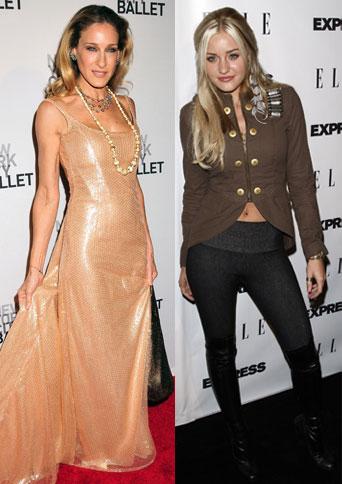 Sarah Jessica Parker got New York City ballet beautiful for the 2010 Fall Gala, dominating the red carpet in fierce fashionista form. The sexy actress stunned in a body-skimming Halston Heritage gown, which had a reptilian skin sheen to it. The eccentric actress paired the gown with chunky necklaces and a metallic Halston sack. Tres chic, SJP!
How sexy is too sexy? AJ Michalka (the other half of Aly & AJ) walked the line at the Elle and Express 25 at 25 event, wearing a military style jack (embellished with bullets!) with skintight jeggings (sans top) and thigh high boots. Victoria Justice was the style star of the event, showing off her sophisticated but sexy style in an Emilio Pucci mini.
Article continues below advertisement
Over on the west coast, Eva Mendes dominated the opening night gala of the Los Angeles Philharmonic in leading lady style. The stunning star modeled an angelic pink Oscar de la Renta gown, which featured impeccable gold beading.
How Phoebe Price scored an invite to the Beverly Center Opening of the Fendi boutique we do not know, but regardless, she looked wacky per usual. Kelly Osbourne on the other hand, looked absolutely divine, showing off her svelte bod in a skintight frock.
Who else dazzled and frazzled in high fashion? Check out RadarOnline.com's daily feature and find out.