PHOTOS: Kate Gosselin - Basket Case Amid Show Rumors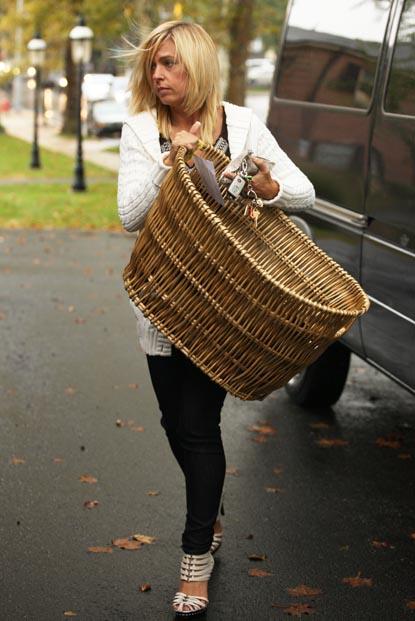 As rumors swirl about the future of her two reality TV shows on TLC, Kate Gosselin stepped out in style Monday, carrying a basket to her local drycleaners near the family's home in Wernersville, PA. and RadarOnline.com has the new pics.
On Tuesday, a report from Fox's Philadelphia affiliate indicated that TLC has been mum about the fate of either of their current Gosselin shows, Kate Plus Eight or Twist Of Kate, as both the network's Web site and show's Facebook page have remained stagnant for some time, with no upcoming listings on the slate.
Article continues below advertisement
The station also reported that work permits for the eight Gosselin children will expire before the end of the year, and that Pennsylvania State Representative Tom Murt, inspired by the Gosselin kids, has proposed legislation to add new restrictions to child labor laws whereas it comes to the TV industry.
So is the end of Kate's TV career? Hardly.
RadarOnline.com has learned that TLC is still extremely happy with the Kate Plus Eight show and has high hopes for Twist of Kate.
EXCLUSIVE: Kate Gosselin Boob Job Controversy- Tell Us What You Think!
In addition the network looks like it has a new hit with Sister Wives, which is a docu-drama focusing on a plural marriage. (Plural marriage, as in FOUR wives, one husband!). The show has stirred controversy but also brought in very good ratings during its debut. And TLC has Sarah Palin's show lined up next.
For those of you reading into Kate's stagnant Facebook page, just chalk it up to everyone is busy! The show is going on.