Kate Gosselin Reveals Her Secret Fear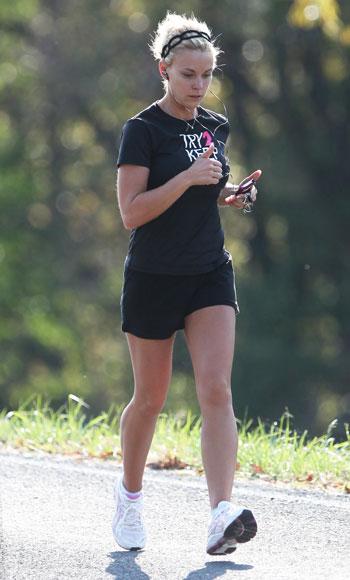 America's most famous reality mom Kate Gosselin has revealed what rattles her most and RadarOnline.com has her latest confession.
On her official blog, the Kate Plus 8 star revealed that she suffers from Ophidiophobia (a fear of snakes), adding that she often comes across the creatures during her weekly running sessions.
The mom-of-eight is frequently seen jogging around the countryside beside her home in Wernersville, Pennsylvania, but the picturesque setting is often disturbed by the slippery reptiles.
Article continues below advertisement
"Dead snakes – large ones, green ones, black ones, all flipped on their bellies," Gosselin wrote.
"They all scare me and make my adrenalin pump … especially those that are upright and staring at me … (gulp!) before I realize they are, thankfully, already in the road-kill department! Whew!"
The fitness fanatic also revealed that she regularly comes across all kinds of discarded items including McDonald's burgers, gloves, alcohol cans, cigarette packages and even sports trophies!
And Kate being Kate, she doesn't miss the opportunity to scold people for not picking up their litter in her blog posting.
She adds: "Come on, America! Can we do no better to keep our America beautiful??? It's sad to run through the beautiful, quiet, relaxing countryside and see so much misplaced trash!
"I've always taught my kids not to 'litter on God's beautiful creation'."
But at least while she is running Kate can sometimes smile at some of the debris that she sees scattered all around her– one purple and white bath scrubber made her laugh.