Fight Breast Cancer With Jeans: Lee National Denim Day Is October 8th!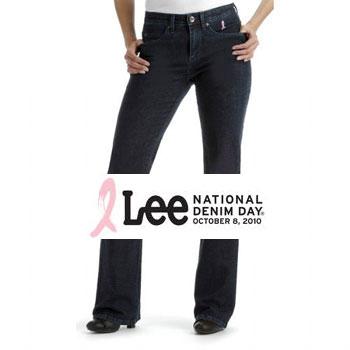 National Breast Cancer Awareness Month is a great way to take advantage of fabulous fashion while raising money for a great cause. Friday, October 8 marks this year's Lee National Denim Day for Breast Cancer Awareness, which means that $5 of every purchase on www.denimdayshop.com is donated to the fight against breast cancer.
Lee Jeans also urges companies across the country to "go casual for a cause," inviting their employees to wear jeans to work in exchange for a $5
Article continues below advertisement
Pucker Up For National Breast Cancer Awareness Month
One of the largest single-day fundraisers for breast cancer in the United States, Lee National Denim Day has gained the celeb support of Felicity
Huffman, Christina Applegate, Pierce Brosnan and Charlie Sheen.
What will you find on the charitably chic website? Oodles of cool Breast Cancer Awareness products like SURVIVOR id bracelets ($13.99), super cute
pink hooded sweatshirts ($26.99), baseball caps ($16.99) and even Post-It Notes ($5.99)!
Keep checking back to RadarOnline.com for more fabulous opportunities to make a difference during National Breast Cancer Awareness Month!