Exclusive
EXCLUSIVE INTERVIEW AND PHOTOS: Teen Mom Farrah Is 'Doing Homework' Halloween Night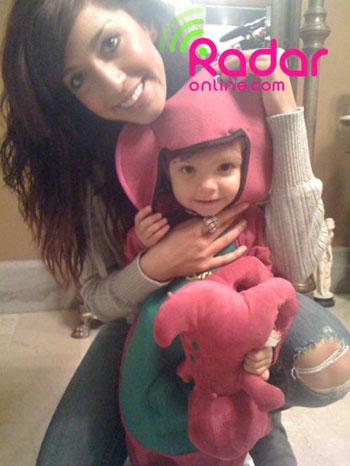 Halloween is often a load of fun for new moms who have a laundry list of trick or treat-related errands. RadarOnline.com spoke exclusively to MTV's Teen Mom Farrah Abraham about juggling the joy of the holiday with school and her heavy work load.
And Farrah shared with RadarOnline.com exclusive photos of her adorable daughter Sophia dressed as Barney!
"I'm going to do kid Halloween events with Sophia but Halloween night I'm doing homework," Farrah told RadarOnline.com.
Article continues below advertisement
Farrah's daughter Sophia is adorable, dressed as the classic character Barney for Halloween this year. Meanwhile, Farrah has decided to go for a more traditional costume.
"I'm a nurse for Halloween," said Farrah. The costume is appropriate for a new mom who endlessly cares for her little one.
Last Sunday, the pair enjoyed a trip to the pumpkin patch near their Council Bluffs, Iowa, home. Mother and daughter picked out the perfect pumpkin for their 2010 jack-o'-lantern.